Delegation to Ukraine

News
Good afternoon. Before anything else, let me first express my sincere gratitude to honestly host, to you Prime Minister Laimdota Straujuma and to the Latvian Presidency, for all the work undertaken in preparing the Summit. I am glad to see such a high level of participation from all. It sends a very strong message about our commitment to the Eastern Partnership.
Today in Riga, European Commission Vice President Valdis Dombrovskis, Ukraine's Finance Minister Natalie Jaresko and Governor of the National Bank of Ukraine Valeria Gontareva signed a Memorandum of Understanding and loan agreement for the third EU Macro-Financial Assistance (MFA) programme to Ukraine. The agreements set out conditions for Ukraine to benefit from an additional €1.8 billion in EU financing.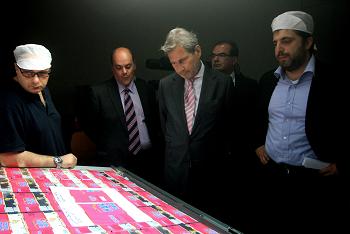 On 27 June 2014, Georgia, Moldova and Ukraine signed Association Agreements (AA) with the European Union (EU). These agreements aim at fostering economic development, long-term stability, efficiency and predictability to businesses. AAs are also the basis for the creation of Deep and Comprehensive Free Trade Areas (DCFTA), which in turn will create new trade opportunities, boost foreign direct investments, economic modernisation and create new jobs in these three countries.
All news
News Subscription
Working together in Ukraine
The EU supports the people in the Rivne Region in starting their own business and growing fruits and berries. The project enhances social and economic development in a region contaminated with radiation following the Chernobyl disaster in 1986
More...

Top News from the European Union
Eastern Partnership a policy that delivers
All news