Delegation to the Republic of Trinidad and Tobago

News
The European Union (EU) has announced the signing of a EUR3.3million (TT$23 million) grant to CARICOM IMPACS to fight crime and boost security by enhancing border security systems and provide training for security officials, ballistic experts and firearm users.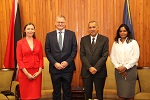 On January 12th 2016, Ambassador Designate of the European Union to Trinidad and Tobago, Jernej Videtic, presented his Letters of Credence to His Excellency Anthony Carmona, President of the Republic of Trinidad and Tobago.
The European Commission has honoured nine journalists reporting on development issues with the Lorenzo Natali Media Prizes. Out of more than 1400 registered participants from across the world, the nine selected journalists stood out for the quality of their journalistic work.
All news
Working together in Trinidad & Tobago
Habitat for Humanity Trinidad and Tobago in partnership with the European Union hosted a Construction Conference to school local contractors, builders and volunteers on the tools and techniques for building safe yet affordable homes.
More...

Top News from the European Union