Delegation to the Republic of Trinidad and Tobago

News
Protecting our environment is the big challenge of our times, not just of one day. Still, each and every day matters. And this Climate diplomacy day is an opportunity we cannot miss.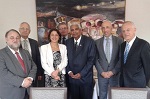 The short-stay visa waiver agreement between the European Union (EU) and Trinidad and Tobago, which allows citizens of Trinidad and Tobago to visit Schengen area countries for a short stay of up to 90 days, has been signed. EU Member States Ambassadors resident in Trinidad and Tobago, along with the Charge d'Affaires of the European Union Delegation, and the Minister of Foreign Affairs of Trinidad and Tobago celebrated the historic signing at a private event in Port-of-Spain.
All news
Working together in Trinidad & Tobago
The Caribbean Basin Radar Network will provide weather surveillance and warning and reduce vulnerability to natural disaster, particularly floods and hurricanes.
More...

Top News from the European Union
01/07/15 - 15/07/15 - Spokesperson/Communication Adviser

The EEAS, Western Balkans Division, requests EU Member States and European Institutions to second experts or support the advertisement for contract regime to the following available positions with the EUSR Support Team in Kosovo, according to the described requirements and profiles:

01/07/15 - EUCAP Nestor Head of Mission meets Somalia's President [315 KB]
30/06/15 - Factsheet: The EU-China Comprehensive Strategic Partnership [358 KB]
30/06/15 - Statement by the EU Delegation to the Kingdom of Lesotho on the killing of Lt. Gen. Maaparankoe Mahao [133 KB]
All news