Delegation to Timor-Leste

News
16/08/2016

-

Nota de Imprensa - Curso de "Gestão das Finanças Públicas (GFP)"

[276 KB]

Nota de Imprensa - Curso de "Gestão das Finanças Públicas (GFP)" em Língua Portuguesa, online, com inscrição aberta ao público e sem quaisquer custos. Promovido pelo projeto Pro PALOP-TL ISC, inteiramente financiado pela União Europeia.
Este curso centra-se no papel dos parlamentos e das instituições superiores de controlo nas despesas públicas e no envolvimento emergente da sociedade civil. Os quatro módulos do curso explicam a gestão financeira e o ciclo orçamental, introduzem as instituições superiores de controlo (ISC) e ilustram a relação entre os parlamentos e as instituições de auditoria nos PALOP e Timor-Leste.
All news
Working together in Timor-Leste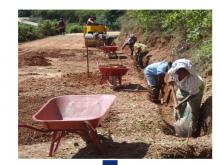 Timor-Leste is one of the least developed countries in the region. Its economy is essentially agriculture-based, with approximately 75% of its total population of about 1.1 million living in rural areas. A key constraint to economic development is the poor condition of infrastructure in general, and the road network in particular. To substantially improve the quality of life of its people and to reduce the incidence of poverty, the Government has prioritized the accelerated development and improvement the road network, which is seen as being fundamental to the country's development.
More...