Delegation to Timor-Leste

News
16/08/2016

-

Nota de Imprensa - Curso de "Gestão das Finanças Públicas (GFP)"

[276 KB]

Nota de Imprensa - Curso de "Gestão das Finanças Públicas (GFP)" em Língua Portuguesa, online, com inscrição aberta ao público e sem quaisquer custos. Promovido pelo projeto Pro PALOP-TL ISC, inteiramente financiado pela União Europeia.
Este curso centra-se no papel dos parlamentos e das instituições superiores de controlo nas despesas públicas e no envolvimento emergente da sociedade civil. Os quatro módulos do curso explicam a gestão financeira e o ciclo orçamental, introduzem as instituições superiores de controlo (ISC) e ilustram a relação entre os parlamentos e as instituições de auditoria nos PALOP e Timor-Leste.
In response to the ongoing El Niño-induced drought which has hit Timor-Leste over the last few months, the European Union is providing about US$110,000 in humanitarian funding to assist the most affected populations.
All news
Working together in Timor-Leste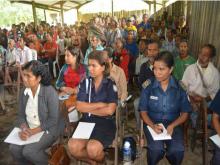 Since gaining independence in 2002, Timor-Leste has worked hard to build solid foundations for peace, prosperity, and equality. To encourage women's participation in decision making, peace building and leadership, and facilitate opportunities for communities to articulate their concerns to government authorities and leaders, Open Day dialogues have been held in Timor-Leste since 2010.
More...