Welcome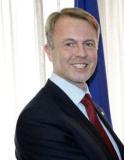 Dear visitors,
Welcome to our web site!
It is our goal eventually to make this a place, where we in real time can provide you with the latest news on our activities.
We would like to make our web page your "first stop" when seeking information about what the EU Delegation and its members are doing. At that same time, we have through our links in the margins of the site very good short cuts to find the documents you need.
As always, a web site is "work in progress". It is not a static document or site. We strive to make it an interactive space, in which our messages get to you in real time. If you have some good ideas of what you like to see here, please let us know. In the mean time, visit our audio visual gallery, where you will find a lot of good snap shots of what the Delegation and its staff members are involved in.
Welcome once again – and enjoy your search for information.
Aivo Orav,
Head of the Delegation of the European Union