European Languages Café (20/09/2012)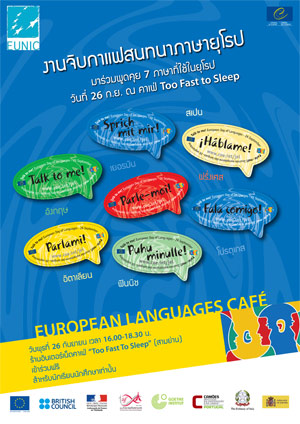 To mark the European Day of Languages, 26 September, the European Union National Institutes for Culture Thailand (EUNIC Thailand) will organise a 'European Languages Café' activity where young Thai and European speakers of English, Finnish, French, German, Italian, Spanish, and Portuguese can meet to practise the different European languages they master, share their cultural interests or simply socialise.
EUNIC Thailand is a common framework for the promotion of European culture and European-Thai cultural dialogue and exchange. The current members are the Alliance Française, the British Council, the French Embassy, the Goethe Institut of Germany, the Instituto Camões of Portugal, the Italian Embassy and the Spanish Embassy as its members, with the support of the Delegation of the European Union to Thailand.