Welcome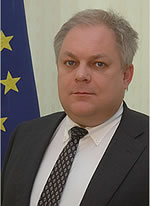 Eduard Auer - Head of Delegation
Welcome to the new website of the Delegation of the European Union to Tajikistan.
Since the adoption of the EU Central Asia Strategy in 2007, relations between Tajikistan and the EU have intensified. The entry into force of the Partnership and Cooperation Agreement between Tajikistan and the EU on 1 January 2010 provides the basis for a further strengthening of this relationship and coincided with the upgrading of the EU Delegation in Tajiksitan to a diplomatic mission accredited at the level of ambassador.
The website will make it easier for the public to stay informed about the many aspects of Tajik-EU cooperation: political dialogue, development cooperation and trade issues to name just a few. This website will also be the main point of information on contract tenders, calls for proposals and job publications.
I hope this website will prove a valuable information source and that it will contribute to strengthen relations between Tajikistan and the EU. Thank you for visiting it.
Eduard Auer
Head of Delegation/Ambassador
Delegation of the European Union to Tajikistan
74 Adhamov street
734013 Dushanbe
Republic of Tajikistan
Tel (+992 37) 221 74 07
Fax: (+992 37) 221 43 21