Delegation to Swaziland

News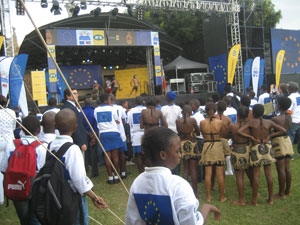 On 25 May 2016, the Delegation of the European Union to Swaziland, in partnership with local partners, hosted a very successful and colourful primary schools arts festival held within the framework of the annual Bushfire arts festival, Swaziland's biggest and most popular arts event which has become a global attraction.
More than 600 pupils from many primary schools around the country turned up for this event held in Malkerns, just outside Mbabane the capital. The event, the first ever to be held within Bushfire, was held in the context of Europe Day 2016 and EU support to arts and culture in Swaziland.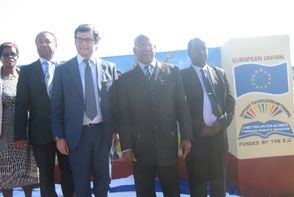 On 27 May 2016, EU Ambassador, Nicola Bellomo, toured Phocweni primary school in Manzini where the EU has funded the construction of classrooms and other infrastructure as part of the EU Support to Education and Training in Swaziland. The Ambassador was joined in the tour by the Minister of Education and Training, Dr Phineas Magagula.
On 20 May 2016, EU Ambassador to Swaziland, Nicola Bellomo, visited Sigwe constituency in the Shiselweni region, south of Swaziland, to witness the disbursement of mobile money to elderly people affected by the current El Nino-driven drought situation affecting Swaziland and the region.
The money is part of the E10 million (600 000 Euros) which the European Union has made available through the European Commission Humanitarian Office (ECHO) to help mitigate the impact of the drought situation in Swaziland.
All news
Working together in Swaziland
Improving access and quality of education in Swaziland through payment of school grants for orphans and vulnerable children (OVCs), provision of schooling infrastructure and strengthening education management and coordination.
More...

Top News from the European Union