Delegation to Swaziland

News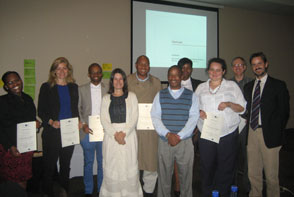 On 7 and 16 July 2015, punto.sud in collaboration with the Delegation of the European Union to Swaziland organized a training workshop, split into two days, on communication and visibility for EU-funded actions in Swaziland. Each day of the workshop was attended by a different set of participants.
The workshop, attended by Non-Governmental Organizations (NGOs) and Non-State Actors (NSAs) involved in the implementation of EU-funded projects in Swaziland, was aimed at helping these organizations to enhance their communication and EU visibility efforts as they implement the EU-funded actions.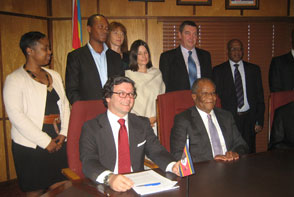 On 6 July 2015, the Delegation of the European Union to Swaziland and the Government of Swaziland signed the first Financing Agreement whereby the EU will provide up to 62 million Euros (approx. 800 million SZL) to support horticulture and social protection in Swaziland. This support is under the 11th European Development Fund (EDF) which runs from 2015 to 2020. Signing for the Government of Swaziland was the Prime Minister, Sibusiso Dlamini, whilst EU Ambassador to the Kingdom, Nicola Bellomo, signed on behalf of the EU.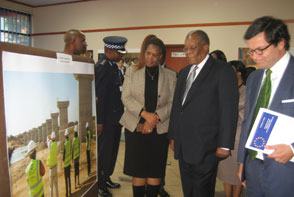 On 8 May 2015, the Prime Minister of Swaziland, Sibusiso Dlamini, visited the EU Photo Exhibition which took place from 4 - 9 May 2015 and held in the context of EU Day 2015 under the theme: 'EU in Swaziland, Our World, Our Dignity, Our Future.' The aim of the exhibition, held at the exhibition room of the Mbabane National Library Services, was to showcase the visual impact of EU projects in Swaziland and how these help in the development of Swaziland.
All news
Working together in Swaziland
ACH is aiming to train, coach and follow up health staff working in the communities and in facilities in order to increase early identification and referral of malnutrition and to improve feeding practices.
More...

Top News from the European Union
The Council adopted the first legal acts implementing the Joint Comprehensive Plan of Action (JCPOA), the agreement reached on 14 July 2015 in Vienna on the Iranian nuclear issue.
All news