Delegation to Swaziland

News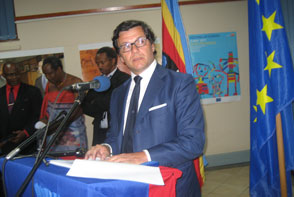 On 4 May 2015, the Delegation of the European Union to Swaziland launched its first ever Photo Exhibition to showcase the visual impact of the EU's involvement in the development of Swaziland. The event was held within the context of EU Day 2015.
All news
Working together in Swaziland
Improving access and quality of education in Swaziland through payment of school grants for orphans and vulnerable children (OVCs), provision of schooling infrastructure and strengthening education management and coordination.
More...

Top News from the European Union
Eastern Partnership a policy that delivers
All news