Delegation to Swaziland

News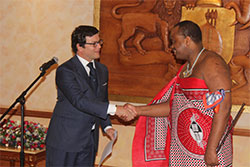 EU Ambassador to Swaziland, Mr Nicola Bellomo, who is the new Head of Delegation, presented his credentials to the King of Swaziland, His Majesty King Mswati III, in an event that marked the official assumption of duty by the Ambassador.
All news
Working together in Swaziland
The Southern Africa region suffers from water scarcity, which can generate conflict and political instability. This project contributes to promote regional integration by enhancing common water management.
More...

Top News from the European Union
European Commission MEMO Milan, 9 December 2013 During his opening speech at the New Narrative for Europe conference in Milan today, President Barroso also made the following remarks on the current situation in Ukraine: "My appeal to all the intellectuals, to all men and women of culture, to all citizens,...
All news