Delegation to the Republic of Korea

News
Press release 19/12/2014
The European Commission welcomes the announcement by South Korea today that, from 1 February 2015, processed organic products certified in the EU may be sold as organic in South Korea. This is part of a bilateral arrangement on organic equivalency, for which the European Commission will finalise the EU recognition rules for South Korean products in the coming weeks.
Declaration by High Representative Federica Mogherini on behalf of the European Union on Human Rights Day, 10 December 2014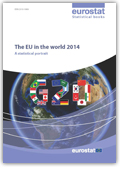 Eurostat published a statistical portrait of the European Union (EU) in relation to the rest of the world.
All news
Events

The EU ambassador, Tomasz Kozlowski hosted a luncheon with the members the Korea-EU Inter-Parliamentary Council.

The 3rd Model European Council hosted by Yonsei University this year took place at 7 November,2014.
More...

Top News from the European Union
Having regard to the values, interests, culture, and traditions of indigenous communities; Recognising that the hunting of seals by indigenous communities of Canada has been an integral part of their tradition, culture, and identity since time immemorial and that they rely on the seal hunt for the direct necessities of life and to sustain their communities economically through the income it generates; Recalling that the European Union's regulations on trade in seal products seek to ensure that the fundamental economic and social interests of indigenous communities which hunt seals for their subsistence will not be adversely affected;
All news