Delegation to South Africa

News
Are you interested in a post-graduate scholarship in Europe? The three consortia below are providing opportunities for studies in Europe, with applications closing on 15 March 2015. The Scholarhsip covers return flight, tuition fees, medical insurance and a monthly stipend.
The consortia are:
There are also opportunities for Joint Masters Courses and Joint Doctoral Degrees. These enable students to acquire joint, double or multiple degrees awarded by participating institutions. These opportunities are available for 2015 and 2016 academic year in Europe http://eacea.ec.europa.eu/erasmus_mundus/programme/action1_en.php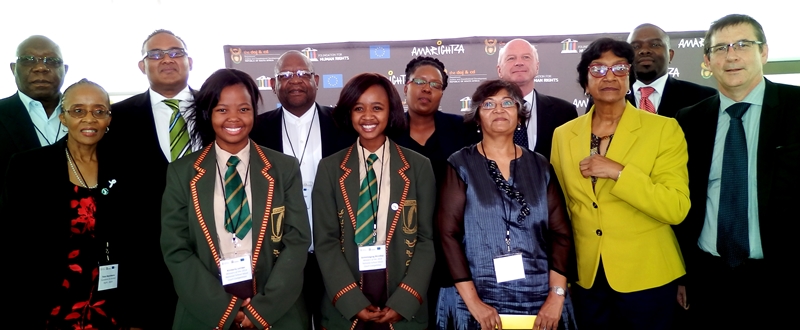 Following the achievements of the EU-funded Access to Justice and Promotion of Constitutional Rights programme that ended earlier this year, the European Union Delegation to South Africa and the Department of Justice and Constitutional Development, together with the National Treasury, decided launch a new initiative, the Socio-Economic Justice for All (SEJA) programme - promoted as AMARIGHTZA. Also EU-funded, the programme will be implemented by the Foundation for Human Rights and is based on the values and principles enshrined in the South African Constitution. The new programme was launched at Constitution Hill in Johannesburg on International Human Rights Day 2015. http://www.amarightza.org.za/
All news
Working together in South Africa
The project develops financial management policies, standards and human capacities and supports the implementation of the Public Finance Management Act.
More...

Top News from the European Union
22/01/15 - HRWG welcomes the ratification of the UN Convention on the Rights of the Child [220 KB]
20/01/15 -

Déclaration locale de l'Union européenne sur la condamnation de Birame Dah Abeid, , Brahim Ramdan et Djibi Sow
All news