EU Delegation to Somalia

News
The Delegation of the European Union to the Federal Republic of Somalia is seeking proposals for actions in Somalia with financial assistance from the "RE-INTEG - Enhancing Somalia's responsiveness to the management and reintegration of mixed migration flows" programme financed by the European Union Emergency Trust Fund for stability and addressing the root causes of irregular migration and displaced persons in Africa.
On Monday 21 March 2016, the Chairman of the EU Military Committee, General Mikhail Kostarakos, visited Mogadishu, in Somalia, to attend a ceremony marking the handover of command at the EU Training Mission (EUTM) Somalia Headquarters.
At the ceremony, outgoing Italian Army Brigadier General Antonio Maggi handed over command to Italian Army Brigadier General Maurizio Morena as the new Mission Commander. General Kostarakos delivered a brief speech to mark the occasion highlighting the commitment of the European Union in continuing its support to Somalia.
Today, the European Union (EU) jointly with the Ministry of Planning and International Cooperation of the Federal Government of Somalia launched 9 new Civil Society projects.
These projects will be implemented by 7 international agencies and 11 local non-governmental organizations. The projects are worth EUR 8 million and aim to support effective civil society engagement for the achievement of Peacebuilding and State-building Goals of the Somali New Deal Compact.
All news
In-Focus/Events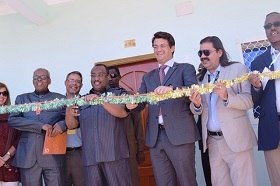 GAROWE, February 15, 2016 - The European Union jointly with the Government of Puntland launched the second phase of the Puntland Education Sector Support Programme. The Waxbarashadu Waa Iftiin (Education is Light) phase II programme launched today is implemented by a consortium of NGOs comprising CARE, Save the Children, ADRA and VU Amsterdam University, and in close coordination with the Ministry of Education, Puntland. Read more

[84 KB]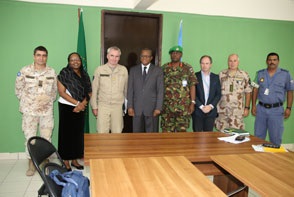 Mogadishu, September 11, 2015 – Lieutenant General Wolfgang WOSOLSOBE, the Director General of the European Union Military Staff was hosted by the EU in Somalia and witnessed firsthand the work of the European Union Training Mission Somalia (EUTM Somalia) and interacted with Somali authorities, AMISOM, UN representatives, EUCAP NESTOR and other EU partners active in the security sector.During his visit on 6 and 7 September, 2015, Lt. Gen WOSOLSOBE discussed the overall security and political context and the EU's comprehensive engagement with Somalia. For more:

[88 KB]
More...

Top News from the European Union