EU Delegation to Somalia

News
Statement by the Spokesperson on the terrorist attack in Somalia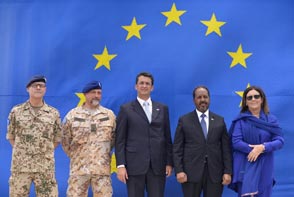 On 9th May, 2016, the European Union Delegation to Somalia and its sister agencies EU Training Mission in Somalia (EUTM), EUNAVFOR ATALANTA counter piracy mission and the European Union maritime capacity building mission for Somalia (EUCAP Nestor) entertained over 200 guests including Somalia President Hassan Sheikh Mohamud, Deputy Prime Minister Mohammed Omar Arte and other senior government officials, official from Africa Union Mission in Somalia - AMISOM, the UN, EU Member States, civil society, partners and friends of the EU in Somalia.
All news
In-Focus/Events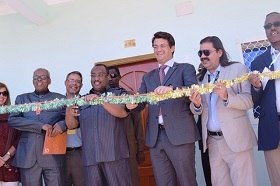 GAROWE, February 15, 2016 - The European Union jointly with the Government of Puntland launched the second phase of the Puntland Education Sector Support Programme. The Waxbarashadu Waa Iftiin (Education is Light) phase II programme launched today is implemented by a consortium of NGOs comprising CARE, Save the Children, ADRA and VU Amsterdam University, and in close coordination with the Ministry of Education, Puntland. Read more

[84 KB]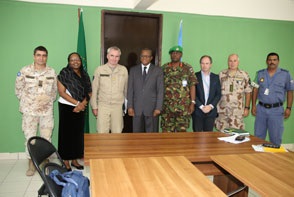 Mogadishu, September 11, 2015 – Lieutenant General Wolfgang WOSOLSOBE, the Director General of the European Union Military Staff was hosted by the EU in Somalia and witnessed firsthand the work of the European Union Training Mission Somalia (EUTM Somalia) and interacted with Somali authorities, AMISOM, UN representatives, EUCAP NESTOR and other EU partners active in the security sector.During his visit on 6 and 7 September, 2015, Lt. Gen WOSOLSOBE discussed the overall security and political context and the EU's comprehensive engagement with Somalia. For more:

[88 KB]
More...

Top News from the European Union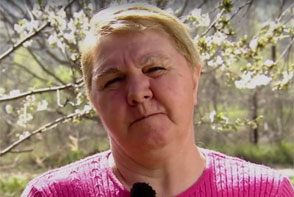 People feel safer when the EU Monitoring Mission patrols in their area. Watch as EUMM monitors engage with the local population in Georgia.
All news