EU Delegation to Somalia

News
2015 is EU's first "European Year of Development" whereby the EU shows how development aid works and how it makes a real and lasting difference.
With regards to the EU's engagements in Somalia, the EU has prepared a series of 7 short video clips highlighting the achievements in key areas such as Security, Livestock trade and Animal Health, Education, Resilience Building, Governance, Human Rights and Justice.
As #EYD2015 theme of May is "Peace and Security", the EU focused this 1st clip on how the EU enhances the security sector in Somalia through its comprehensive approach. More on: youtu.be/xLZ_8xKaSYs
All news
In-Focus/Events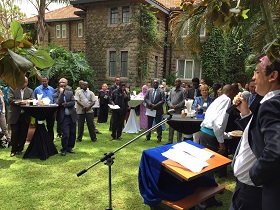 On the occasion of the World Day for Cultural Diversity for Dialogue and Development, the EU Delegation to Somalia wants to reiterate its commitment to strengthen Somali efforts to rebuild cultural heritage.
More on bit.ly/1FHsari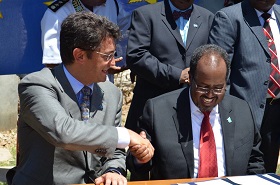 On the occasion of the Europe Day celebrations in Mogadishu, the EU marked the 65th anniversary of the Schuman Declaration with its partners and under the auspices of the President of the Federal Republic of Somalia, Hassan Sheikh Mohamoud.
At the occasion, the President signed an "Establishment Agreement" with the European Union, paving the way for a permanent diplomatic presence of the EU in Mogadishu. More on: bit.ly/1PAjirY
More...

Top News from the European Union
European Commission - Fact Sheet Brussels, 22 May 2015 The EU, together with its Member States, has since last year delivered unprecedented levels of support to help Ukraine in its efforts for launching this renewed reform process.
21/05/15 - Eastern Partnership a policy that delivers [609 KB]

Eastern Partnership a policy that delivers

20/05/15 -

Détention de Roberto Berardi - Guinée Equatoriale

Je vous remercie pour votre courrier du 11 avril 2015 adressé à la Haute Représentante de l'Union pour les affaires étrangères et la politique de sécurité / Vice-présidente de la Commission européenne qui m'a chargé de vous répondre.

19/05/15 - EU proposes to scale up its partnership with ASEAN

European Commission - Press release Brussels, 19 May 2015 Today, the High Representative of the European Union for Foreign Affairs and Security Policy and the European Commission adopted the Joint Communication: "The EU and ASEAN: a partnership with a strategic purpose".
All news