EU Delegation to Somalia

News
The Delegation of the European Union to the Federal Republic of Somalia is seeking proposals for an education action in Somalia on Support to Education in the Somali Federal States financed by the European Union under the 11th European Development Fund.
Nairobi, July 5 - The EU wishes the people of Somalia a happy and blessed Eid-Ul-Fitr celebration.
As the holiest month, Ramadan marks an important time for reflection, reconciliation and prayers. May this special day bring peace, happiness and prosperity to all. We hope these virtues become part of the Eid celebrations as well and in the life of the Somali people today, tomorrow and always. Eid Mubarak 2016
CIID WANAAGSAN AND PEACEFUL CELEBRATIONS TO ALL.


Mr. Pedro Serrano, the EU Deputy Secretary General of the EU's External Action Service and in charge of the EU's Common Security and Defence Policy and Crisis Response led a high level EU delegation, including the EU's Managing Director for Africa, Koen Vervaeke, paying a working visit to Somalia on 27 June 2016 to assess EU work there and meet with Somalia officials and EU staff on the ground.
All news
In-Focus/Events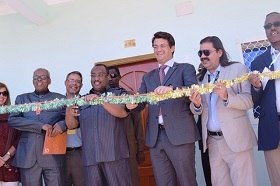 GAROWE, February 15, 2016 - The European Union jointly with the Government of Puntland launched the second phase of the Puntland Education Sector Support Programme. The Waxbarashadu Waa Iftiin (Education is Light) phase II programme launched today is implemented by a consortium of NGOs comprising CARE, Save the Children, ADRA and VU Amsterdam University, and in close coordination with the Ministry of Education, Puntland. Read more

[84 KB]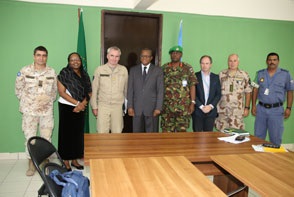 Mogadishu, September 11, 2015 – Lieutenant General Wolfgang WOSOLSOBE, the Director General of the European Union Military Staff was hosted by the EU in Somalia and witnessed firsthand the work of the European Union Training Mission Somalia (EUTM Somalia) and interacted with Somali authorities, AMISOM, UN representatives, EUCAP NESTOR and other EU partners active in the security sector.During his visit on 6 and 7 September, 2015, Lt. Gen WOSOLSOBE discussed the overall security and political context and the EU's comprehensive engagement with Somalia. For more:

[88 KB]
More...

Top News from the European Union