Delegation to the Republic of Rwanda

News
The EU Commissioner for Development, Andris Piebalgs, on his visit to the Great Lakes Region met with the President of Rwanda, Paul Kagame. During his visit, the Commissioner announced funding of €460 million for Rwanda for the period 2014-2020 and signed €30 million of new EU support for Rwanda.
All news
Working together in Rwanda
The project provides the population living in border regions of Rwanda and DRC with practical information on the FDLR demobilisation process and community reintegration of ex-combatants through radio and video screenings and support to local media.
More...

Top News from the European Union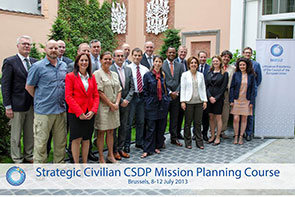 01/07/14 -
ESDC - Strategic civilian CSDP Mission Planning Course
From 8 to 12 July 2013, Austria and Lithuania organised a Strategic Civilian CSDP Mission Planning Course at the Permanent Representation of Lithuania in Brussels
All news