Delegation to the Republic of Rwanda

News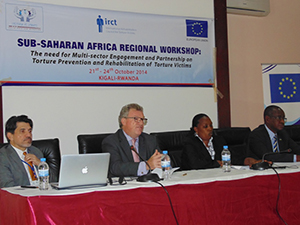 Rwanda hosts an EU funded Sub-Saharan Africa regional conference to share ideas and insights on the state of torture in Africa. Bringing together members of the civil society organisations, the 4-day meeting will explore, among others, how governments and civil society can join efforts in preventing torture and in providing rehabilitation services to victims.
All news
Working together in Rwanda
Inspirés de la tradition rwandaise, le Gouvernement a établie les tribunaux Gacaca avec magistrats élus pour le peuple. Entre 2005 et 2006, ils ont jugé 97 800 crimes du Génocide et ont favorisé la réconciliation dans le pays.
More...

Top News from the European Union
European Commission Press release Brussels, 30 October 2014 The Commission decided today to request an opinion of the EU Court of Justice on the competence to sign and ratify a trade agreement with Singapore. Commissioner De Gucht said: 'I have been saying for months that we need to clarify the...
All news