EU-WFP cooperation
EU Status in WFP
Legally speaking, the EC is not a member of the WFP, but has a privileged status on its Executive Board and sits at the main table as special observer. This is a unique situation in the context of the Executive Board, which is a restricted body of Members who participate on the basis of a rotation system. This unique status offers the advantage for the EU to sit permanently at the Executive Board and is a reflection of the importance of the EU's position as a second major donor (after USA).
EU financial contribution to WFP
The European Union is the second largest donor to WFP but the first one in cash contribution with a total contribution of € 220 million in 2010 : € 195 million mainly dedicated for emergency food aid and humanitarian aid through the European Humanitarian Department (or ECHO), which is the main EU partner of WFP ; 21,4 million were dedicated to activities financed in Kenya, Niger, Mauritania, Guinea and Afghanistan through the EU Food Facility ; € 3,6 million were also dedicated to food secutity operations in Bangladesh through the Food Security Thematic Programme.
The EU is also a key donor, through ECHO, to the Strengthening Emergency Needs Assessment Capacity (SENAC) project, which has greatly increased WFP's in-house capacity for assessment.
EU funded projects in 2010 (under construction)
EU partnership with WFP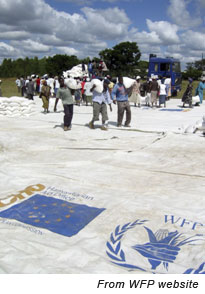 In order to consolidate their relations, the EU and the WFP signed on 2 September 2005, a Memorandum of Understanding (MoU) , by which they confirmed their intention to establish a Strategic Partnership in order to fight world hunger and attain the first Millennium Development Goal ("to halve, by the year 2015, the proportion of the world''s people whose income is less than one dollar a day and the proportion of people who suffer from hunger"). This MoU had also the objective to re-assert the EU food security policy line on food aid.
In order to maintain close relationship with WFP, an annual Strategic Programme Dialogue takes place every year. Besides, regular dialogue between the EU and the WFP is ensured by the EU Delegation in Rome and the WFP Office in Brussels, to enhance EU/WFP relations and improve EU's total contributions.
Back to Work with WFP