Delegation to the Philippines

News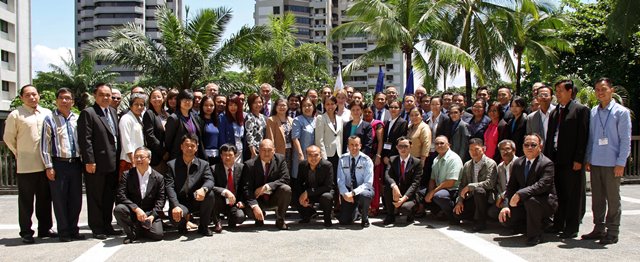 September 10, 2015 - The Republic of the Philippines and the European Union co-chaired an ASEAN Regional Forum (ARF) Workshop on "Raising awareness and promoting ARF cooperation on chemical, biological, radiological and nuclear (CBRN) risk mitigation" in Makati City, Metro Manila, on September 9 and 10, 2015. The workshop brought together 75 participants from the ASEAN member states, the European Union, Australia, Canada, China, India, Japan, Mongolia, New Zealand and the USA as well as the from the ASEAN Secretariat, the International Atomic Energy Agency (IAEA), the Organisation for the Prohibition of Chemical Weapons (OPCW), the World Health Organization and the United Nations Interregional Crime and Justice Research Institute (UNICRI).
Cine Europa frenzy continues as the film festival turns 18 years old this year.
With the theme "Coming of Age", Cine Europe has now matured and evolved with its carefully chosen thematic films from 18 European countries.
Mr Jérôme Rivière, First Secretary of the European Union Delegation to the Philippines said that the festival is packed with 23 excellent and diverse films which reflect the flamboyance, energy and dynamism of the European youth which Filipinos can very well relate to.
Admission is free for all screenings at all locations for the two-month festival.

Jefry Tupas from NewsDesk, who is based in Davao City has started his media programme after having won the grand prize in the European Union Peace Journalism Awards.
Tupas' article was entitled "The Teachers of Raja Muda" which he said was his tribute to the voiceless, to the educators who work to patch up conflict in their localities.
All news
Working together with the Philippines
The Trade Related Technical Assistance Programme (TRTA) is a development project which uses trade as a tool to pursue economic growth and reduce poverty incidence.
More...

Top News from the European Union