Delegation to the Philippines

News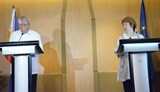 "Thank you very much, Secretary Del Rosario.
It's a great pleasure and honour to be here with you in Manila. You and I have met in different parts of the world, not least last week in Brussels. But it's a special privilege to see you again here, at home. I want to thank you for the collaboration that we have had, and say that the 20th EU-ASEAN Ministerial Meeting last week was extremely successful, a very important occasion as we develop closer links.
photo by © European Union, 2014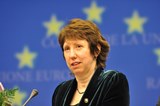 Catherine Ashton, the High Representative of the European Union (EU) for Foreign Affairs and Security Policy/ Vice President of the European Commission, will visit Manila (Philippines),arriving on Monday 28 July.
Young Filipino women were clad in enchanting Greek muses' attire. They were like the perfect mousai or muses personified to usher guests to the "Enchanting Greek" night. Greek flags and miniature gazebos provided the fantastic accent to cap the European Culinary Season 2014 held on 30 June in Aristocrat, Roxas Boulevard, Manila. Greek Chef Anthony Kouroustsavouris of the Culinary Institute of Aristocrat gave the guests a sampling of Greek salad, shrimp saganaki (appetizer served with shrimp, feta cheese and tomatoes), chicken pie and kataifi (a popular Greek pastry made with a special form of shredded phyllo dough) during his culinary demonstration.
All news
Working together with the Philippines
By transferring the ECOPROFIT know-how via high quality training and by implementing best practice models of eco-efficiency, small to large-scale industrial units will increase and local economical and environmental development will be strengthened.
More...

Top News from the European Union