Delegation to the Philippines

News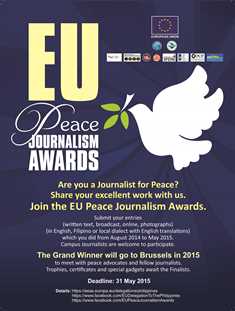 The Delegation of the European Union to the Philippines together with its partners will hold a forum on "Gaps and Gasps in Peace Reportage" on 26 February at Escaler Hall, Ateneo de Manila University.
The Peace Forum is linked to the EU Peace Journalism Awards which was launched in Cotabato City last year. Seasoned peace journalists such as Ed Lingao of ABC – 5, Veronica Uy Vitug of Interaksyon, Joe Torres of the Photojournalists' Center of the Philippines and Rorie Fajardo of the Institute for War and Peace Reporting will share their experiences in peace reportage
The Local Government Units Public Financial Management (LGU PFM) Reform Roadmap and Implementation Strategy shall be launched on February 24, 2015 at the Century Park Hotel, Manila by Budget and Management Secretary Florencio B. Abad and European Union Ambassador Guy Ledoux.
Today, the European Union Delegation is launching a media campaign to increase awareness and understanding of the European Union and its relation with the Philippines.
Although the relationship between the European Union and the Philippines is deep and maturing, the relevance of the European Union to daily interaction is not well understood by all decision-makers in the Philippines.
"How many Filipinos would guess that the European Union is the largest investor in the Philippines, that the European Union is the fourth largest trading partner of the Philippines or that the EU is the second largest source of remittances from Filipino OWFs?" asked EU Ambassador Guy Ledoux.
see more at We inspire each other
All news
Working together with the Philippines
DELGOSEA is a transnational network of local governments and their associations, academics, civil society organisations and media for the promotion and exchange of best practices on local governance in Southeast Asia.
More...

Top News from the European Union