Delegation to the Philippines

News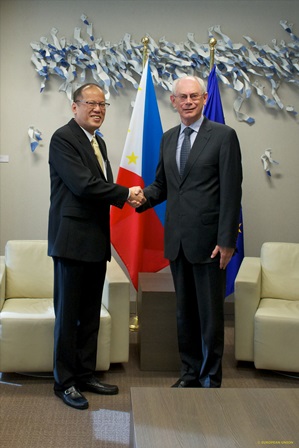 I am glad to welcome President Aquino on his first visit to Brussels and to the European Union. I had the pleasure of meeting the President two years ago on the occasion of the ASEM Summit in Vientiane. The Philippines' relations with Europe are historically deep and long. Today, the Philippines can boast the fastest growing economy in Asia. It is an engine of growth in its region and will progressively raise millions of people from poverty. It was also a forerunner in democratic transition in South East Asia, and in this context, I pay tribute to President Aquino's good governance agenda. The fight against corruption remains a key issue. Democracy, indeed, goes well beyond elections, and the rule of law and respect for human rights are at the heart of it.
photo by Council of the European Union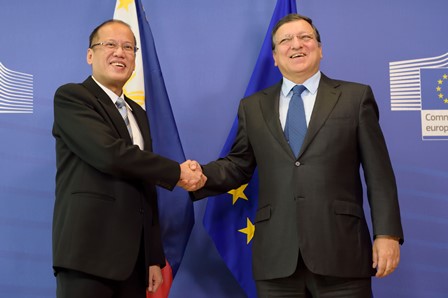 Brussels, 15 September 2014 Good afternoon ladies and gentlemen, First let me welcome President Aquino on his historical visit to Brussels. This visit marks the 50th Anniversary of the establishment of the Philippine Embassy in Belgium, which is also a reason to celebrate the long standing relations between the EU and the Philippines! Today, we have discussed bilateral, regional and global issues. I congratulated President Aquino for his efforts to bring peace, stability and development to the Philippines of which the successful accomplishment of the Mindanao Peace negotiations and signing of the Comprehensive Agreement on Bangsamoro is a good example. In particular, I have congratulated President Aquino for the submission of the draft Bangsamoro Basic Law to the Philippines Congress on the 10th of this month.
photo by European Commission Audiovisual Services
Romanian film "Child's Pose" (Pozitia copilului) opens Cine Europa 17 in Manila on 11 September at Shang Cineplex, Mandaluyong City.
"Child's pose" won the 2013 Golden Bear Award at the Berlin Film Festival and its director, Calin Peter Netzer, is best known for his work "Mother and Son" which won the Fipresci Prize, the first film ever from Romania to win the main festival award at the Berlinale.
All news
Working together with the Philippines
By transferring the ECOPROFIT know-how via high quality training and by implementing best practice models of eco-efficiency, small to large-scale industrial units will increase and local economical and environmental development will be strengthened.
More...

Top News from the European Union