Delegation to the Philippines

News
The third bilateral meeting between the European Union and the Philippines on Energy is taking place as part of Energy Smart Philippines 2015 in SMX Convention Center, Pasay City on 14 July.
Keynote speakers include the Philippines' Department of Energy Officer-in-Charge Secretary Zenaida Monsada, European Union Ambassador Guy Ledoux and European Chamber of Commerce of the Philippines' President Michael Raeuber.
Some sources indicate that the Philippines needs to double its energy generation capacity in the next 10 years, the European Union is engaged in a major energy transition from classical energy mix to a high level of renewable generation. The Philippines currently utilises 26% of renewable energy in its power generation mix.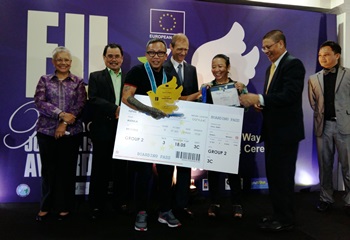 The Delegation of the European Union to the Philippines together with its partners congratulated the winners of the EU Peace Journalism Awards held tonight (8 July 2015) in Makati City.
Jefry Tupas, NewsDesk, who is based in Davao City won the grand prize for his article, "The Teachers of Raja Muda". The grand finalists were Mr Jes Aznar, Mindanews (photo essay) and Stella Estremera, Sun Star Davao (written text in print media).
Tupas got an all-expenses paid trip to Brussels where he will meet with peace interlocutors in September.
The European Commission takes note of and respects the result of the referendum in Greece.

President Juncker is consulting tonight and tomorrow with the democratically elected leaders of the other 18 Eurozone members as well as with the Heads of the EU institutions. He will have a conference call among the "Euro-Institutionals" (with the President of the Euro Summit, the President of the Euro Group and the President of the European Central Bank) on Monday morning. He intends to address the European Parliament in Strasbourg on Tuesday.
All news
Working together with the Philippines
The European Union is providing continuous support for the overall implementation the Health Sector Reform Agenda of the Government of the Philippines as articulated in the Framework for Universal Health Care (UHC).
More...

Top News from the European Union
The Council adopted the first legal acts implementing the Joint Comprehensive Plan of Action (JCPOA), the agreement reached on 14 July 2015 in Vienna on the Iranian nuclear issue.
All news