Delegation to Nigeria and ECOWAS

News
The European Union is giving €3 million in humanitarian aid in response to the growing needs in Cameroon due to increasing number of refugees from Nigeria in the far North of the Country, as well as to the deteriorating nutritional situation of resident populations in this region.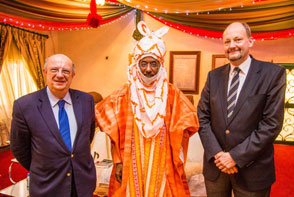 EU Chief Observer Mr. Santiago Fisas AYXELA and EU Head of Delegation Nigeria Amb Michel ARRION on a courtesy visit on the Emir of Kano, Sanusi Lamido Sanusi on Saturday 14th February 2015
All news
Working together in Nigeria and ECOWAS
This pilot action aims to enhance the capacity of fishing communities. It adapts to the impacts of flood risks arising from rainfall and storm surges through data collection, education and public awareness.
More...

Top News from the European Union