Delegation to Namibia

News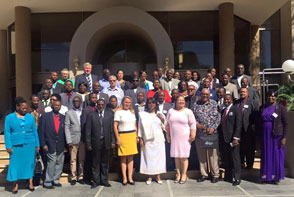 The National Council Secretariat in cooperation with the EU funded Parliamentary Support Programme (PSP) organized a Post-Election Seminar that started on the 1st of February 2016 in Windhoek to empower members of the National Council with knowledge and skills on topics that are relevant to their parliamentary career oversight role. At this occassion the EU Ambassador to Namibia encouraged MPs to help the people to voice their needs and to be responsible to those who elected them. She also urged them to spend the budget wisely as only a small percentage of Namibia's budget is allocated for development purposes. The Rt. Hon Prime Minister thanked the EU for their support through the PSP and for the workshop arranged for members of the National Council, which she said will better equip them to fulfil their governing and oversight roles.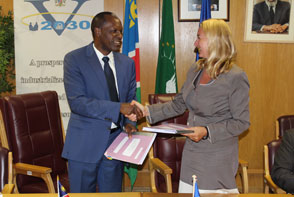 On the 1st of December 2015 the EU Ambassador to Namibia, Jana Hybaskova and Hon. Tom Alweendo, Minister of Economic Planning in the Presidency and Director-General of the National Planning Commission signed three Financing Agreements amounting to a combined value of Euros 15 Million. These agreements are part of a first financing decision under the 11th European Development Fund in favour of Namibia.
All news
Working together in Namibia
A 300 MW High Voltage Direct Current transmission connection extending 950 km interconnects Zambia and Namibia, ensuring the sustainability and security of energy supply in the Southern African Power Pool region.
More...

Top News from the European Union