Delegation to Mozambique

News
06/03/2014

-

CONCURSO PUBLICO nº 01/2014 - Aquisição de máquinas fotocopiadoras

A Delegação da União Europeia na República de Moçambique pretende adquirir 4 fotocopiadoras multifuncionais (copiadora, scanner, impressora com agrafador) para os seus escritórios situados na Avª Julius Nyerere, 2820, Maputo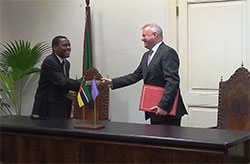 27/02/2014

-

The European Union supports the Supreme Court with a €2-million grant aimed at strengthening the Rule of Law and accountability of public institutions

O Tribunal Supremo e a União Europeia assinaram a 26 de Fevereiro 2014 um contrato de financiamento com vista ao apoio institucional ao Tribunal Supremo e aos tribunais judiciais no montante total de €2 milhões (aproximadamente MZN 84 Milhões). O objectivo desta parceria é de promover um sistema de governação mais equilibrado através do reforço dos mecanismos de pesos e contrapesos entre as instituições do Estado, com uma aplicação da lei efectiva e uma execução das decisões dos tribunais célere e eficaz.
All news
Working together in Mozambique
In the rural communities of northern Mozambique, this project steps up the usage of successfully tested low cost post-harvest technology and establishes community based seed multiplication systems.
More...

Top News from the European Union