The EU and Mexico after the COP16 in Cancun 2010: action in partnership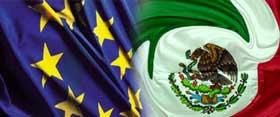 The European Union and Mexico are natural allies in the fight against climate change. We are aware of our common responsibilities and have cooperated towards the successful outcome of the COP16 last December in Cancun.
The EU welcomes the Cancun Agreements, which fully incorporated the Copenhagen Accord into the UN process, proving that multilateralism can deliver, truly setting the stage for international action against climate change.
The Cancun Agreements have answered a number of critical EU demands:
Global warming needs to be kept below 2°C
Current pledges are now anchored in the UN process, but insufficiency noted
Full-fledged "MRV" provisions to increase transparency
It is now essential for all Parties to implement what was agreed in Cancun. As a result of the Cancun Agreements, the EU is currently running three important programmes in cooperation with Mexico:
MRV for the public sector
Funding: € 1 million
In cooperation with GIZ
Monitoring, Reporting and Verification is essential in order to be compensated for the emissions reductions. This project was initiated in 2010 with a scoping study to identify gaps and barriers on monitoring, reporting and verification on green house gas emissions. The study showed that Mexico already enjoys the basis for the deployment of an MRV network. The main objective of this project is then to bring together the different stakeholders, build capacities and create a solid infrastructure for monitoring, reporting and verification in Mexico.
MRV for the private sector
Funding: € 1 million
In cooperation with UNDP
This project aims at building capacities in MRV for the private sector. It will kick off in the second semester of 2010

LAIF / REDD+
Funding: € 2 million
In cooperation with AFD
This project aims to reduce the pressure on forest and watershed through community forest management while providing a link with the national REDD+ strategy. It aims to replicate a pilot project that is to start on the Río Ayuquila in the State of Jalisco in other important watersheds in Yucatán and Chiapas.
The EU-Mexico Strategic Partnership places cooperation on Environment and Climate Change very high our bilateral agenda. The Strategic Partnership provides an excellent political framework to work together towards an effective regime to combat climate change. In addition, the EU and Mexico also count with an annual High-Level Dialogue on Environment and Climate Change, which serves as an excellent forum to exchange views and ideas on themes of mutual interest and identify areas for bilateral cooperation such as climate change, greening the economy, international environmental governance, sustainable production and consumption, biodiversity conservation, etc.