Climate change Events
December 2009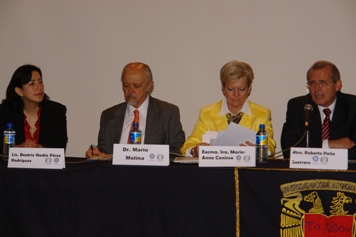 03/12/09 -
Mexico City, Conference on Climate Change: Mexico and the EU towards Copenhagen invitation, Speech
May 2010
June 2010

11/06/10 -
Climate Change Seminar 11th June coorganised by Delegation of the European Union in Mexico and FES Acatlán-UNAM
2010 - Speech on Climate Change - UNAM FES Acatlan

[180 KB]
July 2010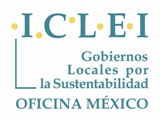 01/07/10 -

EU Delegation's participation in the Seminar "Works, Public Services and Environment" organized by ICLEI, Puebla (Mexico)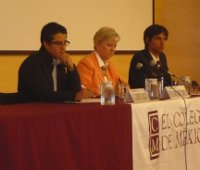 07/07/10 -
The Head of the EU Delegation in Mexico, Marie-Anne Coninsx, gives the keynote speech in the Mexico's Youth Forum on Climate Change, El Colegio de México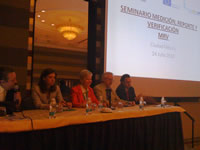 14/07/10 -
The European Union and Mexico work together in the agenda to mitigate Climate Change
March 2011
June 2011
EU Ambassador to Mexico, Marie- Anne Coninsx participated in an event which seeked to acknowledge Mexican efforts and achievements in actions to decrease emissions resulting from deforestation and forest degradation.
On this occasion Mrs. Coninsx signed together with the French and Spanish Ambassadors a financing agreement for a project which aims to fight deforestation in Mexico.
The project seeks to guarantee forest protection by generating sustainable production alternatives which allow the maintenance of forest surface and which strengthens local capacities.
September 2011
Noviembre 2011
24/11/11 -
Marie-Anne Conisnx, Ambassador of the EU to Mexico participated in the Forum "Green Solutions 2011"
Marie-Anne Coninsx, Ambassador of the EU to Mexico participated together with the Mexican Undersecretary of Multilateral issues and Human Rights, Ambassador Juan Manuel Gómez Robledo in the panel "Climate Change Negotiations: Opportunities and Challenges to Durban" of the "Green Solutions 2011 "Forum. In this event, the Ambassador presented the strategy, priorities and challenges of the European Union towards the COP 17.