Factsheet
The Island of Mayotte is situated at the north entrance of the Mozambique channel in the western section of the Indian Ocean. It covers 375 km2 and is made up of two main islands, Petite Terre and Grande Terre, plus around 20 scattered Islands.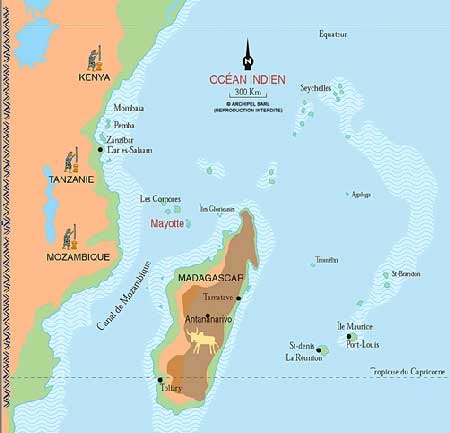 The island is known for its lagoon, more than 1,000 square kilometers in size, sheltering a great biodiversity.
Mayotte has had a special status since 1976. Initially a territorial collectivity of the Republic of France, the process of rapprochement with France has continued and it acquired the status of a departmental collectivity in 2001 and has become the 101st French department in 2011 and the 5th overseas department.
According to a census in 2007, there were around 186,500 citizens on Mayotte. The population increases by an average of 3.1%.
On an economic level, the public administration sector is the primary contributor to Mayotte's wealth. GDP rose to EUR 910 million in 2005 and a recorded average growth of 10% (for the period 2001 - 2005, the period for which data is available). GDP works out at EUR 5,200 per head of population (figure for 2005). According to the NESSI report from 2010, there are around 10,000 companies in Mayotte, most of which are working in the commercial sector, followed by agriculture and services.