Governance and Capacity Building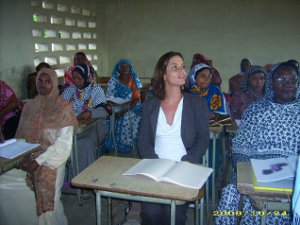 Literacy projects for the women of Mbéni
The programme, which is funded by the 9th EDF for a total of EUR 10.25 million, mainly benefits non-State actors (NSAs) and local authorities (LAs). The programme was initially approved in January 2006 for a period of five years and has recently been extended to 30 June 2012.
By acting to support the national decentralisation process, the programme has initiated long-term projects aimed at reducing poverty by strengthening democracy and increasing the involvement of local actors in the development process.
This programme has three main areas of intervention:
supporting the establishment and operation of the public authorities' decentralised bodies, specifically municipalities. In this regard, numerous studies, workshops and training courses have been carried out in relation to legislation, tax, land registration and the definition of community development plans.
supporting civil society organisations (CSOs) by strengthening their capacities and financing local development initiatives. In this area the focus has been on training and creating networks of CSOs.
supporting urban communities in managing and disposing of household waste, and local and national authorities in processing and disposing of solid waste.

Literacy projects for the women of Mbéni
The results achieved in late 2010 and the activities planned up to the end of the programme can be summarised as follows:
- 290 elected officials and civil servants have been given training on carrying out their duties and 150 others are also set to benefit;
- 700 representatives of civil society have received training in project management, good governance and different development issues, and 500 others will also be trained;
- A national management structure for the decentralisation process has been established and a harmonised body of legislation and regulations for the three islands has been submitted to the National Assembly;
- Work on establishing Councils for the two islands without one has begun and is due to be completed in 2011;
- Land has been allocated in 12 of the 46 planned districts and development plans have been drawn up for 7 pilot districts, while consultation work has already begun in 8 other districts;
- 33 projects have been implemented by NSAs relating to local development, good governance and the promotion of human rights, and funding is in place for 45 other projects;
- A Union of Civil Society Organisations (UCSO) has been created on each island and joint services set up;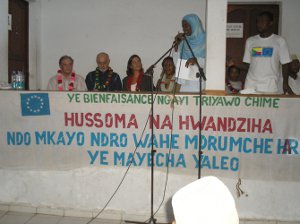 L'éducation
- A CSO charter and a framework for cooperation between the NSA and the public authorities have been approved;
- 8 awareness-raising campaigns on waste management have been organised, alongside "Clean Town" days in 7 towns;
- An inter-district association known as the AIAM has been set up to organise waste management in the capital city, Moroni; another is due to be set up shortly in the northern region;
- Studies have been carried out to establish collection points and to construct a landfill site, for which the building work will be completed by the end of the project.
->> Back Development Cooperation
Back to Development Cooperation