Political & economic relations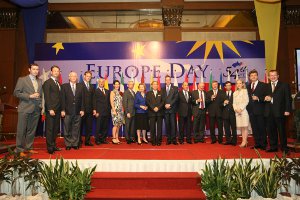 Europe Day reception in Kuala Lumpur, 9 May 2011
Malaysia, an emerging economy of 27.5 million people, plays an important role in the EU's efforts to reach out to the entire world. With its cultural, ethnic and religious diversity, Malaysia mirrors European diversity and makes for a good partner on the global stage.
In October 2010 Prime Minister Najib and the EU leaders launched two major EU-Malaysia bilateral initiatives, namely the negotiations for the Free Trade Agreement (FTA) and for the Partnership and Cooperation Agreement (PCA). These two initiatives are respectively aimed at boosting bilateral trade and investment and at creating a new strategic dimension for the EU-Malaysia political dialogue and economic cooperation. We are witnessing a very intense and exciting period, during which we will lay the ground for bringing the EU-Malaysia bilateral relations to a whole new dimension.
The EU is also gradually establishing cooperation with Malaysia in areas falling under the Common Foreign and Security Policy (CFSP) such as maritime security and non-proliferation of weapons of mass destruction.
Currently the highest level forum between the European Union and Malaysia is the annual Senior Officials Meeting. This provides a platform for both parties to review global and multilateral issues.
To foster further relations, the Malaysian Parliament set up the Interparliamentary Union (IPU) Malaysia-EU Caucus in November 2010. It has 42 members representing both the government coalition and the opposition.