Delegation to Liberia

News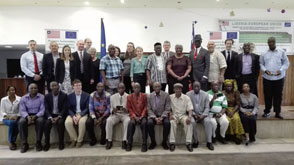 Representatives of Liberia and the EU have met to review progress towards implementation of their Voluntary Partnership Agreement (VPA), which aims to ensure Liberia exports only legal timber products to the EU. The Liberia-EU VPA Joint Implementation Committee (JIC) met for the 3rd time on 20-22 January in Monrovia. The JIC is the body established to oversee the implementation of the agreement.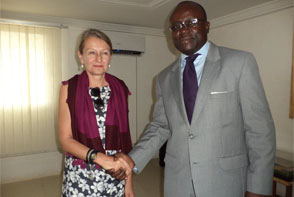 Speaking in Monrovia on Thursday, 21 January 2016, the Head of the European Union Delegation to Liberia, Tiina Intelmann announced that the EU is funding 4 international experts to help boost the capacity of Liberia's Bureau of Electricity and Renewable Energy at the Ministry of Lands, Mines and Energy. She welcomed the start of this technical assistance project, which is expected to last for up to four years.
All news
Working together in Liberia
Among the 10.000 households of Bomi County, three out of four do not have enough to eat. Some 2,000 households are both deeply poor and have no adult able to work. The cash transfer programme provides financial assistance to these families.
More...

Top News from the European Union
European Commission - Statement Brussels, 5 February 2016 High Representative/Vice-President Federica Mogherini and Commissioners Vĕra Jourova and Neven Mimica call for zero tolerance against Female Genital Mutilation. Ahead of the International Day of Zero Tolerance against Female Genital Mutilation (6 February 2016) High Representative of the Union for Foreign Affairs...
All news