Delegation to Lesotho

News
EU Statement by the Spokesperson to High Representative/Vice-President Federica Mogherini on the 28 February 2015 National Assembly Elections in Lesotho, as released today in Brussels.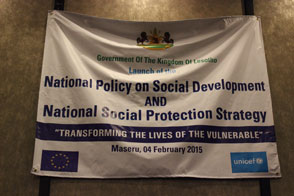 Remarks by H.E . Dr. Michael Doyle, Ambassador and Head of Delegation of the European Union to the Kingdom of Lesotho
All news
Working together in Lesotho
In order to mitigate the impact of soaring food and agricultural input prices, the EU provided €4 million through FAO in Lesotho to support vulnerable, food insecure farming households. 36 300 households received quality agricultural supplies.
More...

Top News from the European Union
The EU is seriously concerned at the continued deterioration of the security and humanitarian situation in Syria.
All news