In focus/Events
2014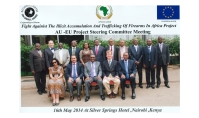 An international meeting was held in Nairobi last Friday (16 May 2014) with participants from across the African continent to discuss ways to step up the fight against the illicit spread and accumulation of small arms and light weapons (SALW). The meeting took place in the context of an international project which is implemented by the Regional Centre on Small Arms in the Great Lakes region and the Horn of Africa (RECSA).......More Information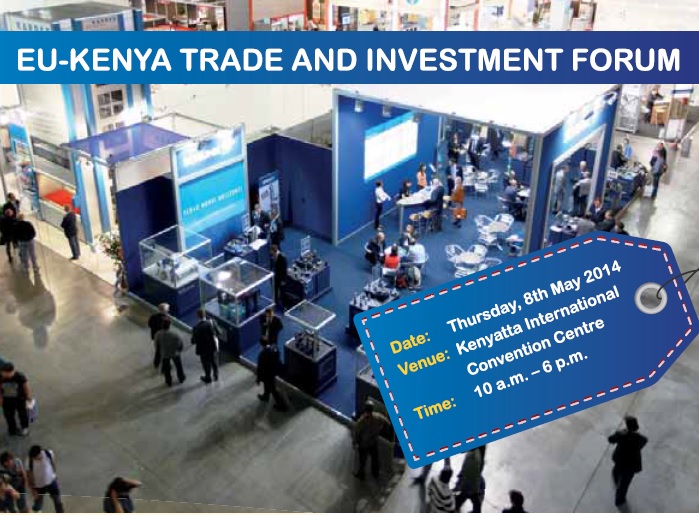 In the framework of the EU-day celebrations, EU Delegation to Kenya is organizing a Trade and Investment Forum on the grounds of Kenyatta Convention Centre on Thursday 8th May. The Forum intends to offer an opportunity to increase the business' visibility through a display on how the company concerned has contributed to employment and skill development, technology transfer and foreign direct investment, increased corporate social responsibility and local community support. European companies active in Kenya are very welcome to attend.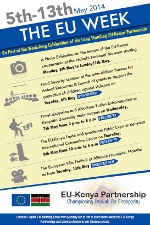 The European Union (EU) Delegation to Kenya will organise a series of events to celebrate its long-standing partnership with Kenya. Events include a photo exhibition, a seminar, a project launch, activities at the Kenyatta University and a trade and investment forum. The annual European Film Festival at the Alliance Française will follow these events.
2013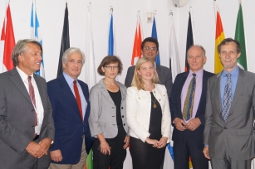 Visit of EU Special Representative to the Horn of African Region, EEAS Managing Director for Africa, Deputy Director-General – DG Development and Co-operation and Member of Cabinet of HR Catherine Ashton on 23 July 2013.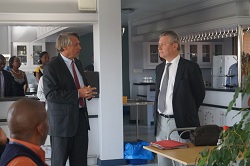 EU and Kenya on the brink of consolidating closer trade ties The European Union Commissioner for Trade, Mr Karel De Gucht will visit Kenya on Monday 15th July at a time when EU-EAC negotiations on a full EPA have made considerable progress and are on the verge of conclusion. The EAC region has a tangible opportunity to seize the advantages offered by the Economic Partnership Agreement (EPA) and to maintain Duty Free Quota Free access for all Kenyan exports to the 500 million consumer EU market. For more . . .

[287 KB]
2012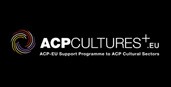 The ACP-EU Support Programme for the ACP Cultural Sector (ACP Cultures +) aims to promote a favourable environment, notably so in terms of the regulatory environment, for the sustainable development of ACP cultural industries. It aims to support the creation and distribution of ACP cultural sector services and goods, as well as promoting ACP cultural diversity, building capacity and generating employment.This call for Proposals has a total of €14,800,000 at its disposal split into two lots (lot 1 "Cinema and broadcasting €10,000,000 and Lot 2 "Other cultural industries" €4,800,000). The Call aims to benefit to operators active in a cultural sector: broadcasting, cinema, music, fine arts and applied arts, crafts, theatre and performing arts, heritage, architecture…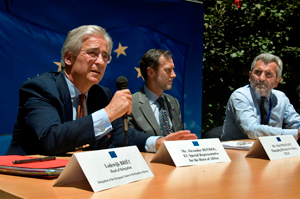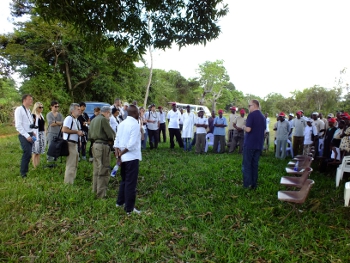 Field Visit For EU Correspondents In Kenya