Technical and financial co-operation
The European Commission's cooperation with Kenya begun in 1976. Kenya is one of 77 countries in Africa, the Caribbean and the Pacific (the ACP countries) that have jointly negotiated a new comprehensive Partnership Agreement with the EU, the Cotonou Agreement.
While the Treaty and the Cotonou Agreement provide the legal basis for EC cooperation with ACP countries, the recently adopted European Consensus on Development sets the general policy framework at EU level for cooperation with African countries such as Kenya. The primary and overarching objective of EU development policy is the eradication of poverty in the context of sustainable development, in line with the international agenda, and with particular attention for the Millennium Development Goals (MDGs).
The European Commission is one of Kenya's largest development co-operation partners, providing grants from the European Development Fund (currently 9th and 10th EDF) and from the development instruments of the General Budget of the EU. Figures of development assistance to Kenya are summarised below.
DISBURSEMENTS OF EU DEVELOPMENT ASSISTANCE TO KENYA OVER THE PERIOD 2006-2010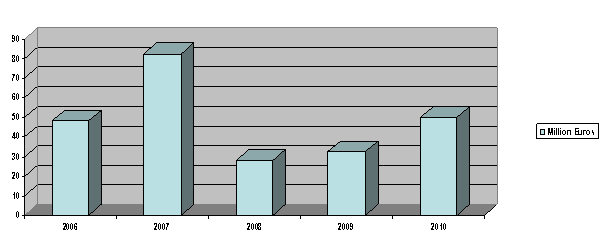 The Delegation of the EU is signatory to the Kenya Joint Assistance Strategy in support of the Vision 2030 objectives. Projects and programmes and implemented by the Government of Kenya, other bilateral and multilateral organisations, civil society organisations, local authorities and communities. The cumulative portfolio of on going programmes and projects (amounts to 760 M Euros on the 01/09/2010) per KJAS sectors is presented below:
PIECHART ON DISTRIBUTION OF SECTORS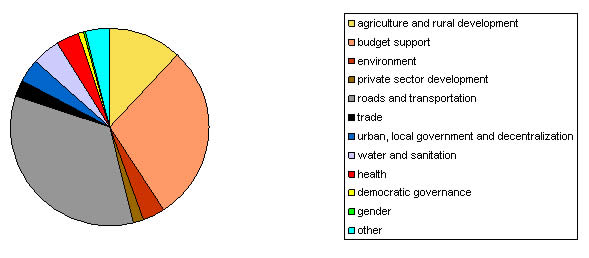 The European Union and the Government of Kenya signed the 10th EDF Country Strategy Paper

[2 MB] and National Indicative Programme on December 9th 2007 in Lisbon, Portugal, during the European Africa Summit. The Kenyan people stand to benefit from a support of 383 million Euros for the period 2008 - 2013. In line with KJAS, the EU works in the following areas:
10th EDF Focal Sectors:
Transport infrastructure/road sector
Macro-economic budget support
Agriculture and rural development
Other Sectors:
Trade and private sector development
Governance
Social sector
Environment
Water
Energy
Joint Assistance Strategies
The aim is to reduce the burden on the government of dealing with multiple donors. In support of the Paris Declaration and donor aid harmonisation, alignment and coordination, the Delegation together with members of the donor community, the Government of Kenya and civil society, signed the Partnership Principles in September 2007 and launched the Kenya Joint Assistance Strategy (KJAS) guiding the implementation of its support.
In September 2010, as a recommitment to work on aid effectiveness the Delegation together with members of the Donor community signed a Joint Statement of Intent (JSI). The JSI is a guiding document to support the External Resource Department of the Government of Kenya and fund the work of an Aid Effectiveness Secretariat housed in the Ministry of Finance.