Welcome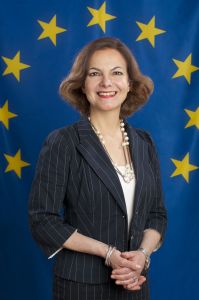 Dear Guest,
It is a pleasure to welcome you at the website of the Delegation of the European Union to Kazakhstan. This website offers a quick access to all EU news and information about the EU institutions and policies, and what is the most important it covers all developments in the EU-Kazakhstan bilateral relations, as well as our Delegation's role and activities.
The EU now has an enhanced role on the world stage, especially after the entry into force of the Lisbon Treaty in December 2009 and the establishment of the European External Action Service. These changes enable us to speak with one voice, to better cooperate with our global partners in order to address the challenges faced by the world and its people in the 21st century.
Kazakhstan and the European Union started their close partnership since the country's independence. On 2 February 1993 the parties signed an agreement that set up diplomatic relations between the EU and Kazakhstan. Since then our cooperation in such areas as trade, economy, energy, transport and environment is expanding every year. The EU is also investing into projects for youth, in the fields of education, scientific research, civil society development, among many others.
The Partnership and Cooperation Agreement (PCA) is the main document framing the EU's relations with Kazakhstan. Kazakhstan and the EU are currently in the process of negotiating a new enhanced PCA, which will open new opportunities for mutually beneficial cooperation.
I hope this website will be a valuable information resource and that it will contribute to strengthening of the EU-Kazakhstan relations. Thank you for your interest in visiting our website, and feel free to contact our Delegation if you have any comments or questions.
Sincerely,
Aurélia Bouchez
Ambassador, Head of the European Union Delegation to Kazakhstan