European Commission's Humanitarian Aid and Civil Protection department (ECHO) highlights plight of Iraqi refugees on World Refugee Day (20/06/2012)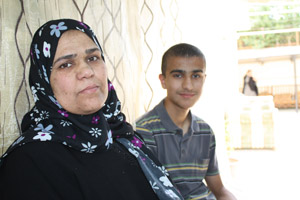 Amman, Jordan 20 June 2012 – Madeeha, an Iraqi mother of three, is among the 166,000 Iraqis who fled their home following the war in 2003 and remained in the region as refugees registered with the United Nations Refugee Agency (UNHCR). Her journey of displacement began in 2006 when she fled with her family the Shi'a dominant neighbourhood they lived in, in Baghdad, after receiving threats from her Sunni neighbours. Madeeha and her family initially arrived in Amman but finally settled in Damascus where, according to her, life expenses were cheaper. Her husband, in his late 70s, is physically unfit for work.
"In Syria we were very happy. We got financial support [from NGOs] and were able to live a normal life," says Madeeha. But in October 2011, prompted by the unrest in Syria, the family returned to Amman. Here, she says, she is unable to provide her children with the most basic needs, like clothing. With tears in her eyes, she speaks about the effects of this second displacement on her eldest son Abdul Rahman, 17, who refuses to leave the house. "He has given up on making new friends. He attempted suicide more than once," she says. "The youngest", Madeeha speaks of her only daughter, "is too young to complain. Her only wish is not to return to the horrors she saw in Iraq."
But Abdul Aziz, 15, doesn't agree with his sister. Shy in nature, with a warm smile, he says he dreams of returning to Iraq one day. When asked why, he responds matter-of-factly: "It's my country." Madeeha brought her son here to the Nawares Al Rahman, a Community-Based Organisation, to attend a focus group discussion organised by the International Relief and Development (IRD) and UNHCR. The event aims at bringing together children of refugees to share experiences.
With very limited legal access to the official Jordanian labour market, Azhar has been instead volunteering with IRD since 2011. The 43-year-old says volunteering has allowed her to meet people with similar worries and has been a form of an "escape" from the reality she lives. She receives a symbolic salary in return for the time she spends volunteering with IRD.
Azhar describes her 19-year-old son as "just a teenager" who fancies trying out new hairstyles. "Do you know how many teenager boys were killed in Iraq under the claim of being 'emo'? How can I go back to Iraq?" she asks. Earlier in March, Human Rights Watch, Amnesty International released a statement requesting the government of Iraq to investigate violence practiced against Iraqi youth seen as belonging to the non-conformist "emo" subculture.
A Sunni married to a Shi'a, Azhar says her neighbours verbally abused her family accusing them of being "kuffar", Arabic for faithless. She applied for resettlement to the United States with UNHCR but was rejected. "When Iraqis started coming to Jordan, we were prioritized over refugees from Sudan and Ethiopia. Now it seems like Iraqis are no longer a priority with all the Syrian refugees coming in," she hypothesizes.
According to UNHCR's website, there are over 32,000 registered Iraqis in Jordan. Angela Murru, UNHCR senior resettlement officer, says the influx of Syrians into Jordan hasn't affected the resettlement process of Iraqis. "We are submitting less Iraqi cases for resettlement because we are getting fewer arrivals of Iraqis. Resettlement countries process cases and have their own timelines. What UNHCR can do is that we can try and see if some cases can be expedited," Murru says. "But nothing has changed for the Iraqis." She added that UNHCR is adopting a regional approach in dealing with cases of Iraqi refugees being displaced for the second time, such as the case of those coming from Syria where the UN agency picks up with their case from where it left off in Syria.
Meanwhile, 20-year-old Zaman, an Iraqi refugee who has been in Jordan since 2005, seems cheerful and content. She says she understands the concerns of her step-father about her safety and that of her younger sister. She spends her time at home and rejoices at occasions as this youth group discussion where she can go out and meet other girls her age.
When asked about her dreams and aspirations, Zaman responds: "I dream of being able to continue my education." She contemplates for a second and then adds: "and of finding safety and stability."
Since 2007, the European Commission has provided humanitarian aid to Iraqis affected by the crisis in the country and to those who have fled to Syria, Jordan and Lebanon. Aid is provided in the form of basic health-care services, psychosocial support, emergency cash assistance and the distribution of essential household items. With unrest unfolding in Syria, the European Commission's Humanitarian Aid and Civil Protection department (ECHO) is closely monitoring the impact on the living conditions of Iraqi refugees and is ready to support them further should the need arise. A total of £8 million in humanitarian aid has been allocated by ECHO for the year of 2012 to assist victims of the Iraqi crisis. This assistance includes providing Iraqi refugees with protection services, food, basic household items and psychosocial support.
June 20 is marked by the UN refugee agency as the World Refugee Day. On this day, millions of vulnerable refugees share stories similar to Madeeha's, Azhar's and Zaman's. Some are hopeful of returning to their home countries while others await a phone call that will determine where they will next carry on with their lives in peace. Pondering the uncertainties of her future, Madeeha asks: "Until when? Our future is uncertain in Iraq, uncertain in Syria, and uncertain in Jordan. Where should we go?"
Dina Baslan, ECHO Information and Communication Assistant
http://blogs.ec.europa.eu/echo-action/displacement-of-iraqi-refugees-persists-almost-10-years-after-crisis/