Delegation to Jordan

News
Review of the European Neighbourhood Policy (ENP): stronger partnerships for a stronger neighbourhood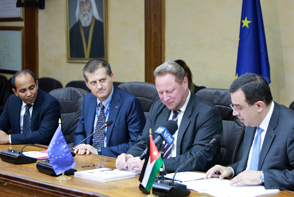 The European Union (EU) supports Jordan with developing skills for employment and social inclusion (€52 million), promotes green technologies, innovation and economic development in the Governorates most affected by the Syria crisis (€13.5 million) and enhances public education for displaced Syrian children (€12.5 million).
The EU is allocating an additional €28 million in humanitarian aid to support Syrian refugees and their host communities in Jordan, bringing the overall humanitarian assistance provided by the EU since the start of the Syria crisis up to €198 million.
All news
Working together in Jordan
After visiting 16 Universities of the country, the EC Delegation to Jordan organized a Tour to Municipalities in 2008 and 2009, embarking monthly EU Member States and journalists to visit its 21 partners in poverty pockets.
More...

Top News from the European Union