Delegation to Jamaica, Belize, The Bahamas, Turks and Caicos Islands and Cayman Islands

News
Two of Belize's popular archaeological sites – Nohoch Che'en (Caves Branch) in Belmopan and Lamanai in Orange Walk are the latest locations to benefit from infrastructure upgrades under the EU supported project - Making Tourism Benefit Communities Adjacent to Archaeological Sites (MTBCAAS). The improvements were officially inaugurated and toured by Head of Delegation of the European Union to Belize, Ambassador Paola Amadei at ceremonies held on Wednesday, July 29 and Friday, July 31 respectively.
The Forum on Belize-Guatemala relations is at the centre of European Union (EU) Ambassador to Belize, Paola Amadei's visit to the country this week. Ambassador Amadei who arrived on July 26 participated in the forum held on Tuesday, July 28. The forum facilitated discussions between representatives of both countries and was being organised as part of a wider EU funded programme Guatemala- Belize: Support to the Peaceful Resolution of the Long –standing Territorial Dispute which is managed by the Organisation of American States (OAS).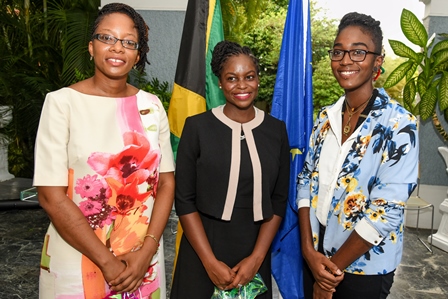 Three Jamaicans are among the top recipients of the much coveted Erasmus Mundus scholarship for 2015. The awardees Kim Lee Campbell, Nicole Ennis and Tami Palmer will pursue Masters Degrees in September.
All news
Working together in Jamaica
In 2004, Hurricane Ivan ravaged Jamaica, causing extensive damage. A lack of access to basic quality infrastructure and a widespread feeling of helplessness currently exist among the poor communities. This project aims to respond to their needs.
More...

Top News from the European Union
The Council adopted the first legal acts implementing the Joint Comprehensive Plan of Action (JCPOA), the agreement reached on 14 July 2015 in Vienna on the Iranian nuclear issue.
All news