Delegation to Jamaica, Belize, The Bahamas, Turks and Caicos Islands and Cayman Islands

News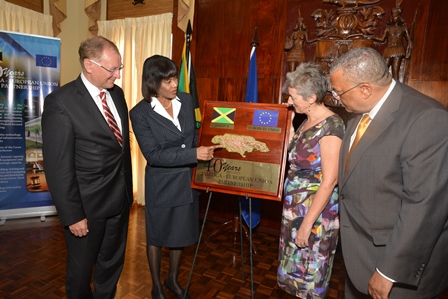 The Government of Jamaica and the European Union yesterday afternoon kicked off celebrations to mark the 40 year partnership anniversary between them. The launch ceremony held at Jamaica House in the presence of Prime Minister the Hon. Portia Simpson Miller, Finance Minister Dr. the Hon. Peter Phillips, Head of the EU Delegation in Jamaica, Ambassador Paola Amadei, other Government Officials and 12 Heads of Mission from European Member States (Austria, Belgium, France, Germany, Greece, Ireland, The Netherlands, Poland, Slovakia, Spain, Sweden, and the United Kingdom) is the first in a number of activities celebrating the partnership throughout 2015.
Over 200 children and young adults from Denham Town and Waterhouse were recognised for their achievement following their participation in two summer camps held last year. Under the EU funded Poverty Reduction Programme (PRP) KBC Learning Camp and Miracle Tabernacle Youth Workshop provided opportunities for participants to improve their educational and social skills and internship opportunities. The participants were recognised at a joint graduation ceremony at held at the Jamaica Conference Centre in Kingston on January 29, 2015.
10.5 kilometres of roadway between San Lazaro and August Pine Ridge in Orange Walk was officially opened yesterday (Thursday, January 22) by Head of the EU Delegation to Belize, Ambassador Paola Amadei and officials of the Ministry of Works. The re-opening of the road follows a comprehensive rehabilitation of its structure. The rehabilitation was financed by the European Union and the Government of Belize through funds from the EU's Accompanying Measures for Sugar (AMS) Programme and is being undertaken in four phases. The San Lazaro to August Pine Ridge was completed under phase three of the programme at a cost of € 2.91 million BZ$4.4 million. The Rural Road Rehabilitation Project programme which began in 2008 and will end in 2016, supports the upgrade of 29 key roads in the sugar areas at a cost of over € 42.7 million (BZD 106.7million).
All news
Working together in Jamaica
PRP-II focuses on direct and concrete support to the residents living in volatile communities. The programme promotes community based projects where the communities decide what their needs are and put a project together.
More...

Top News from the European Union