Delegation to Jamaica, Belize, The Bahamas, Turks and Caicos Islands and Cayman Islands

News
The European Union has given its commitment to continue support to vulnerable communities across Jamaica. Speaking at the launch of the 'Jamaica Exporters' Association and the St. Andrew Settlement Income Generating Opportunities for Unemployed Young People Through Linkages with Established MSMEs in Majesty Gardens' on May 14th, 2013, "Chargé d' Affaires of the EU Delegation in Jamaica Jesús, Orús Báguena said the focus on vulnerable communities remains key especially given the challenge with unemployment.
The Agualta Vale roundabout in St. Mary was today (Thursday, May 9) officially renamed the Schuman roundabout in honour of Robert Schuman, one of the founding fathers of the European Union. The roundabout is the starting point of the section of the North Coast Highway which received JMD$10 billion (calculated at the current exchange rate) in funding from the European Union. The remaining twenty five percent of the cost was funded by the Government of Jamaica. The road which is approximately 96 kilometres in length is the section of the Northern Coastal Highway between Ocho Rios and Port Antonio and links the parishes of St. Ann, St. Mary and Portland, parishes which are all critical to the island's tourism sector.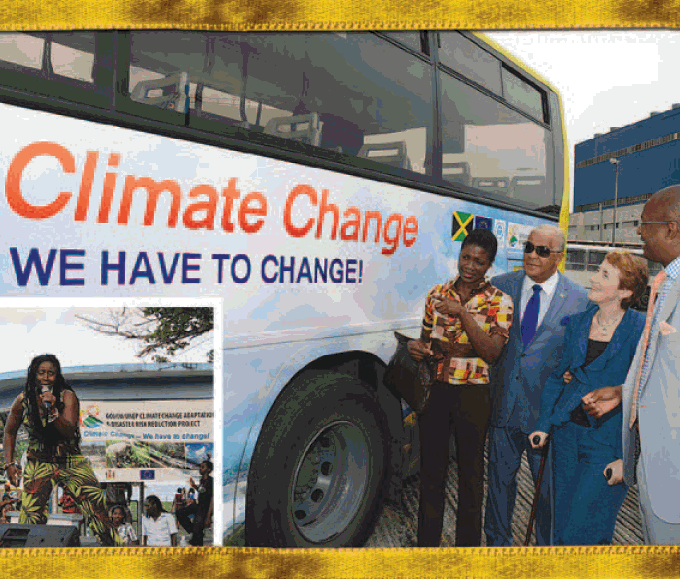 Raising awareness and building capacity with respect to climate change issues and adaptation.
Expand here to find out more about what we're doing.
All news
Working together in Jamaica
PRP-II focuses on direct and concrete support to the residents living in volatile communities. The programme promotes community based projects where the communities decide what their needs are and put a project together.
More...

Top News from the European Union