Delegation to Jamaica, Belize, The Bahamas, Turks and Caicos Islands and Cayman Islands

News
The Peace Management Initiative (PMI) has embarked on new ground with the production of a film "Living in Waterhouse - the change within" aimed at promoting peace among youth and showcasing the work of the organisation. A private resentation of the film was done recently by the community to Minister of National Security Peter Bunting, Head of the EU Delegation to Jamaica Ambassador Paola Amadei and members of the Area 4 police.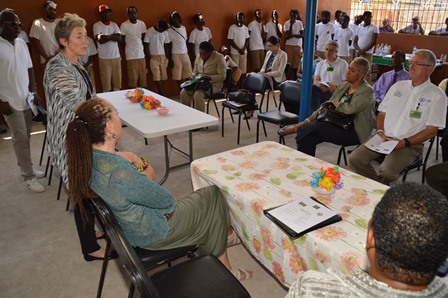 More than one thousand inmates will benefit from the opening of a craft laboratory at the Tower Street Adult Correctional Centre in Kingston. The laboratory was funded as part of initiatives under the inmate rehabilitation project being implemented by Stand Up for Jamaica (SUFJ) and funded by the European Union.
Two Jamaican Senators have been selected to participate in the highly competitive EU Visitor's Programme (EUVP) during 2015. Senators Imani Duncan-Price and Kamina Johnson-Smith were selected from a list of high ranking officials across North America, Asia, Africa, Europe and North America. The programme invites young, promising leaders from countries outside the European Union to visit EU institutions to gain a first-hand appreciation of the EU's goals, policies and peoples and to increase mutual understanding between professionals from non-EU countries and their EU counterparts. Selections are made through a committee of the EU parliament.
All news
Working together in Jamaica
The overall objective is to maximise the contribution of sustainable forest management to the rural poor in the insular Caribbean by building capacity for institutional arrangements, which optimise the socio-economic contribution of forest resources.
More...

Top News from the European Union
The European Union Delegation for the Pacific issues the following statement in agreement with the EU Heads of Mission in Fiji
All news