Welcome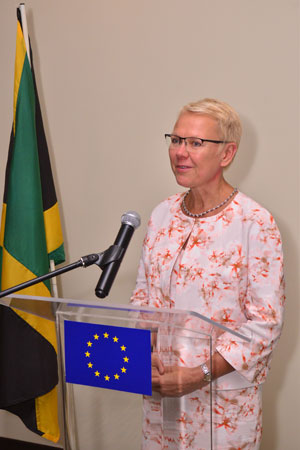 Malgorzata WASILEWSKA - Head of Delegation
Welcome to the website of the Delegation of the European Union in Jamaica. The Delegation represents the European Union in five countries and territories in the region. These include Jamaica, Belize and the Bahamas as well as the Overseas Countries and Territories (OCTs) of Turks and Caicos Islands and Cayman Islands. In Belize a technical office has been opened since April 1, 2010 to manage the increasing cooperation programmes in the country.
The European Commission first established its Delegation in Jamaica in April 1976. With the entry into force of the Lisbon Treaty on the 1 December 2009, the Delegation has officially become the Delegation of the European Union.
The European Union is a key development partner in the Caribbean. Through its programmes, the EU assists not only the government of the respective territories but offers aid to non-governmental organizations and social upliftment entities. The programmes are diverse and tailored to meet the priority areas of each country. Our assistance focuses on debt reduction, crime fighting, corruption, reform of the justice sector, human rights, migration and asylum, agricultural diversification, private sector development, infrastructure as well as social and rural development.
While the nature of how we fund these different areas has changed over the years, there is no doubt that we continue to strengthen our ties with Jamaica and the other territories. A testament to this is the number of persons who have benefitted from our programmes and the good relationship we continue to share with the government and other stakeholders in the five countries.
Our website outlines our different areas of involvement as well as ways for NGOs to access funding. We hope you will find the information here as a useful guide to understanding the work and policies of the European Union. Please feel free to contact us with your questions or comments.

Malgorzata WASILEWSKA - Head of Delegation