Delegation to Israel

News
On Wednesday 19 February, the Delegation of the European Union to Israel, together with five Israeli local authorities, will launch five EU funded project that will improve the local authorities' capacities to plan, provide services and protect the environment.
All news
Working together in Israel
The project is aimed at promoting norms and practices that safeguard the equality and dignity of women in the workplace. An emphasis is placed on combating sexual harassment, equalising wages and working against additional forms of marginalisation.
More...

Top News from the European Union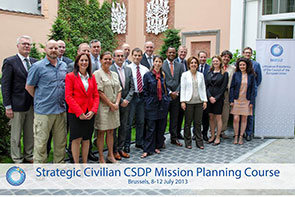 01/07/14 -
ESDC - Strategic civilian CSDP Mission Planning Course
From 8 to 12 July 2013, Austria and Lithuania organised a Strategic Civilian CSDP Mission Planning Course at the Permanent Representation of Lithuania in Brussels
All news