Delegation to Ghana

News
The "Ebola: from emergency to recovery" conference is taking place in Brussels today under the organisation and patronage of the European Union. While international efforts have reduced the number of Ebola infections in recent months, it is critical to maintain the momentum to prevent a sharp increase in new cases. The conference today aims to sustain the international mobilisation and to plan the next steps in the fight both against the current outbreak and the Ebola virus in general.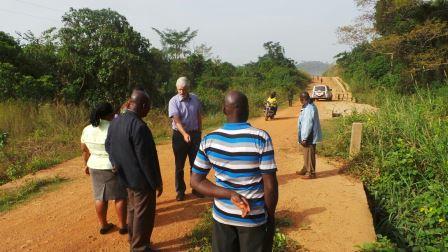 European Union (EU) Ambassador to Ghana, William Hanna, started Tuesday 24 February a three-day visit to the Volta Region of Ghana to inspect EU-funded projects in the area. After a courtesy call meeting with the Deputy Volta Regional Minister, Mr. Francis Komla Kanyaglo, on Tuesday, he travelled to Nkwanta to inspect progress made on the Eastern Corridor road and met with the Northern Volta Gari Processors Association (NOVOGAP).
All news
Working together in Ghana
Mercury amalgamation, which is used in the traditional gold separation process, is bad for health and the environment. Ghanaian miners are trained in alternative gold extraction processes adapted to Ghanaian conditions through EU support.
More...

Top News from the European Union
After two decades of committed joint efforts from the Ghanaian government and international partners, the European Union (EU) and the United Nations Children Fund (UNICEF) are delighted that the World Health Organisation has certified Ghana as free of the Guinea-Worm disease.
All news