Delegation to Ghana

News
Ambassador William Hanna, Head of the European Union in Ghana, on Monday 20th October, had his first interaction with the Ghanaian media in Accra. This follows the presentation of his credentials to President Mahama on 10th October 2014 at the Flag staff house. He spoke and answered questions on several issues concerning the EU-Ghana partnership, the vision of the EU in the coming years, Economic Partnership Agreement and the contributions of the EU in the fight against the Ebola virus among others.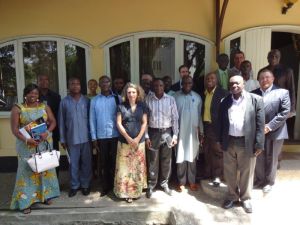 The European Union together with the Government of Ghana organised last week Thursday a validation workshop in Accra, to discuss with various stakeholders possible options for the 11th EDF support programme to Employment and Social Protection.
All news
Working together in Ghana
This water, sanitation and hygiene project has the overall objective of improving the health status and quality of life of people living in communities endemic with guinea worm disease in the Northern Region, Ghana.
More...

Top News from the European Union
We strongly condemn the attack that occurred in Ottawa on 22 October that resulted in the death of a Canadian service member. We express our deep sympathy and offer our sincere condolences to the victims of this attack and to their families.
All news