Delegation to Ghana

News
Ambassador William Hanna, Head of the European Union in Ghana, yesterday, 15 July 2015, paid a courtesy call on the Minister of Lands and Natural Resources, Nii Osah Mills, in his office in Accra. The visit was to afford the Ambassador the opportunity to formally introduce himself and to describe in brief, the support provided by the EU Delegation to the sectors covered by the Ministry. They discussed issues of the Forest Law Enforcement, Governance and Trade - Voluntary Partnership Agreement (FLEGT - VPA).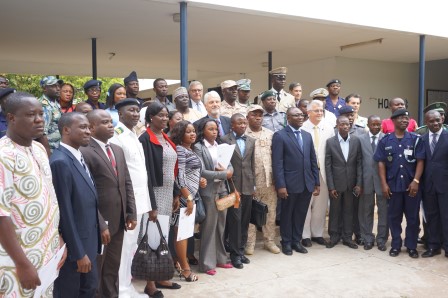 For the second time, with the support of the European Union (EU) Critical Maritime Route project for Gulf of Guinea (CRIMGO) project and the Regional Maritime University (RMU) in Accra, has delivered an innovative training, to 42 mid-managers and operators from seven coastal countries of the Gulf of Guinea (Benin, Cameroon, Equatorial Guinea, Gabon, Ghana, Nigeria, and Togo). This was after eight weeks of undergoing various courses on maritime security. The participants were presented with certificates, at a ceremony in Accra on 15 July 2015.
Private companies across Ghana will benefit from a new lending programme by Access Bank backed by EUR 15 million from the European Investment Bank. This is the first engagement between Access Bank and the European Union's long-term lending institution under a wider initiative to support private investment in the country and further develop Ghana's financial sector.
All news
Working together in Ghana
This project aims at providing a sound planning framework for the transport sector, informing the sector's service, meeting the country's needs in economic development, regional integration and social cohesion.
More...

Top News from the European Union
The end-tag for element type "p" must end with a '>' delimiter.
All news