Delegation to Ghana

News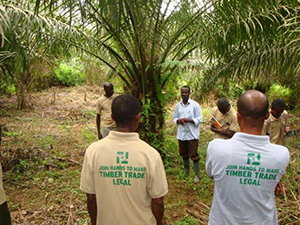 A three-member team of officials from the European Union undertook a three-day verification mission to the National Working Group on Forest Certification (NWG), in Kumasi, and toured project sites in parts of the Western Region from 16 to 19, September, 2014.
EU Ambassador William Hanna on Wednesday 22nd October 2014 opened a workshop on European Union funded Banking for the Poor programme (B4P) in Accra. It was organized by Concern Universal, a Non-Governmental Organisation. The workshop welcomed more than 50 practitioners, policy makers, civil society leaders and microfinance clients from three regions of Ghana (Brong Ahafo, Eastern and Volta region) to share learning and exchange on best practices for enhancing financial inclusion as a tool for promoting holistic and equitable development.
Ambassador William Hanna, Head of the European Union in Ghana, on Monday 20th October, had his first interaction with the Ghanaian media in Accra. This follows the presentation of his credentials to President Mahama on 10th October 2014 at the Flag staff house. He spoke and answered questions on several issues concerning the EU-Ghana partnership, the vision of the EU in the coming years, Economic Partnership Agreement and the contributions of the EU in the fight against the Ebola virus among others.
All news
Working together in Ghana
This water, sanitation and hygiene project has the overall objective of improving the health status and quality of life of people living in communities endemic with guinea worm disease in the Northern Region, Ghana.
More...

Top News from the European Union
Nous rappelons notre attachement au respect des principes de l´Union africaine en matière d´alternance politique et démocratique. Tout ce qui risque d'affecter ou de remettre en cause la stabilité, le développement équitable, et les progrès vers la démocratie doit être rejeté d'un commun accord, afin de consolider l´unité nationale et de renforcer les moyens d'action au service de la population ainsi que les équilibres régionaux. Tout recours à la violence constituerait un grave recul pour le pays.
All news