Delegation to Ghana

News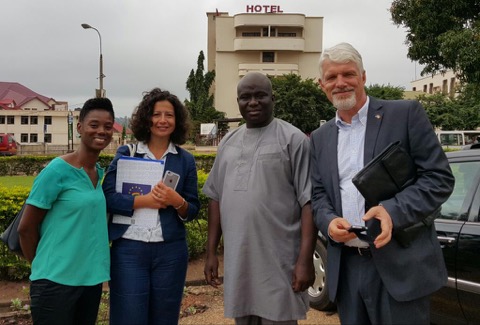 The EU Ambassador to Ghana, William Hanna, and the Ambassador of Italy, Laura Carpini, yesterday begin a two-day visit to the Brong Ahafo Region of Ghana from October 1 – 2, 2015 to meet authorities and local communities concerned with migration management and to learn lessons from EU-funded projects on migration management.
The European Commission announced today its decision to lift the fisheries yellow card issued to Ghana in 2013 and Papua New Guinea in 2014 as a result of the constructive cooperation between these countries and the Commission, leading to significant structural reforms in national fisheries management system in order to fight illegal fishing.
The first electronic police information system for West African countries, funded by the European Union (EU) with a budget of around EUR 5 million and implemented by INTERPOL with the collaboration of the Economic Community of West African States (ECOWAS), was launched today, 29 September 2015 in Ghana.
All news
Working together in Ghana
SMARTRAC is a capacity building program designed for microfinance institutions that wish to improve their skills for managing and monitoring risks and sustainable performance.
More...

Top News from the European Union