Delegation to Ghana

News
The European Union in Ghana organises a range of informative & entertaining events this year to celebrate the Commemoration of the 1950 Schuman Declaration – the birth of the idea of a European Union. 2015 is also the European Year for Development promoting cooperation around the world. So the theme for Europe Week 2015 (#EUWeekGh) is "EU-Ghana: Partnership for a Better World".
European Union Ambassador in Ghana, William Hanna, yesterday launched in Accra a report on the study "Assessing the Effectiveness of Parliament in Ghana's Democracy", undertaken by the National Commission on Civic Education (NCCE). The 45-page report presents the public's assessment of the fourth Republican Parliament of Ghana. The study was funded by the EU.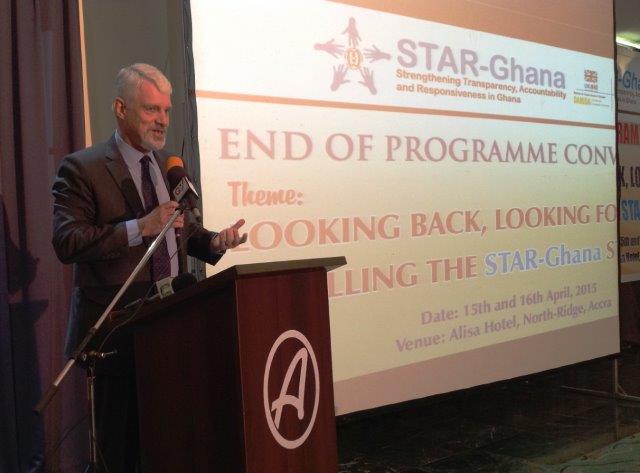 The Head of the European Union in Ghana, Ambassador William Hanna, yesterday stressed the EU (comprising 28 members) together with UKAid, DANIDA and USAID are committed to the support of Civil Society and that it underscores the funding support to Strengthening Transparency, Accountability and Responsiveness in Ghana – STAR-Ghana. He was of the view that an enhanced engagement between local Civil Society Organisations (CSO's), the government and other relevant stakeholders will promote transparency and accountability in governance, calling on different actors to work together to achieve a common goal.
All news
Working together in Ghana
TroFCCA wishes to contribute to national processes of adaptation to climate change, by streamlining adaptation into national development processes through the assessment of vulnerability and the identification of of adaptation strategies.
More...

Top News from the European Union
Call for tender: Provision of benchmarked housing data and information on real estate in third countries — ref. EEAS-426-DIVA4-SER-DIR
All news