Welcome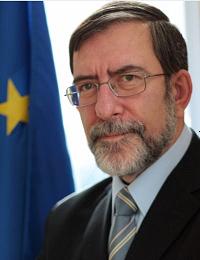 Head of Delegation, Ambassador Philip Dimitrov
Welcome to the website of the European Union Delegation to Georgia.
The Delegation of the European Union (EU) to Georgia has been operating in Tbilisi, Georgia since 1995. The Delegation presents, explains and implements the EU policy; analyses and reports on the policies and developments in Georgia and conducts negotiations in accordance with a given mandate.
Delegation's mandate
The Delegation's main tasks can be described under three headings: Political relations, Economic and Trade relations, and Co-operation and External assistance. In carrying out its tasks, the Delegation aims at maintaining and developing good and effective contacts with its partners in the government and civil society as well as with EU Member States and international organisations. The Delegation observes and reports regularly to Headquarters on political, social and economic developments in Georgia. It also seeks to ensure coherence between the EU's trade policies, humanitarian assistance, support for democracy, human rights and the media, institution and capacity building and other external policy activities in Georgia. As the EU is one of the major donors in Georgia, one of the Delegation's tasks is programming and implementation of external assistance.
EU Assistance to Georgia
For the period 1992 – 2007, the EU provided assistance to Georgia to a value of € 530.8 million. Following the August 2008 war the European Commission pledged up to € 500 million in 2008-2010 to mitigate the effects of the war. The bulk of the additional funding is directed to IDPs (Internally Displaced People) from the recent conflict, but also from the 1990s conflicts, for infrastructure and economic stabilization. In April 2010 the EU allocated €180 million to Georgia for the period 2011-2013 to support democratic development, rule of law, good governance; trade and investment, regulatory alignment and reform; regional development, sustainable economic and social development, poverty reduction as well as peaceful settlement of conflicts.
EU & Georgia - Political and Legal Framework
The EU has the Partnership and Cooperation Agreement (PCA) with Georgia, providing for close political relations as well as economic, social, financial and cultural cooperation. In November 2006 the European Neighbourhood Policy Action Plan for Georgia was adopted. The objective of the European Neighbourhood Policy (ENP) is to share the EU's stability, security and prosperity with neighbouring countries, offering them closer political, security, economic and cultural cooperation. The ENP marks the beginning of a new chapter in the relationship between the EU and Georgia. This relationship will be further strengthened through the Eastern Partnership (EaP), launched in May 2009. The EaP gives the prospect of Association Agreements, Deep and Comprehensive Free Trade Agreements, more people to people contacts and further integration of Georgia with European structures.
If you cannot find the information you are looking for, or do not understand some of the information given, do not hesitate to contact us. We have modest library facility, but more importantly staff members that are willing and able to assist you in your search for information.
Philip Dimitrov
Ambassador, Head of Delegation