Delegation to The Gambia

News
There's no hiding the fact that we wanted a different outcome of yesterday's referendum. I am fully aware of how serious, or even dramatic, this moment is politically.
Joint Statement by Martin Schulz, President of the European Parliament, Donald Tusk, President of the European Council, Mark Rutte, Holder of the Presidency of the Council of the EU, Jean-Claude Juncker, President of the European Commission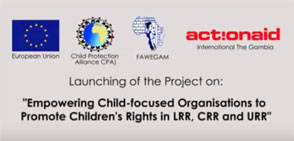 Action Aid International The Gambia in partnership with the Child Protection Alliance (CPA) and FAWEGAM have jointly officially launched the project entitled: "Empowering Child-focused Organisations to Promote Children's Rights in 3 regions of The Gambia, LRR, CRR and URR".
The launching ceremony took place in Soma in the Lower River Region on Thursday 9th June 2016. The project worth 400,000€ (approximately D18 million dalasi) is co-funded by the European Union (EU) and ActionAid.
All news
Working together in The Gambia
More...

Top News from the European Union