Delegation to The Gambia

News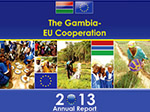 All news
Working together in The Gambia
The Non-State Actors (NSA) Strenghtening Programme aimed to equip NSAs with a greater capacity to engage with the Government and to play a more effective role in The Gambia's national development process. One of the NSA beneficiaries was GAMCOTRAP.
More...

Top News from the European Union
High Representative/Vice-President Federica Mogherini today – for the first time in her new role and as the first High Representative – attended the Foreign Affairs Council in trade formation in line with her commitment to be fully engaged in the coordination of all EU policies that have an impact on external action.
All news