Delegation to Ethiopia

News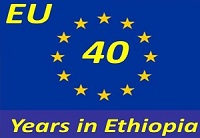 All news
Working together in Ethiopia
Food security is a major problem in Damot Gale and Kacha Bira. Through improved community water supply, natural resource conservation, agricultural development and promotion of reproductive health programmes livelihoods can be greatly improved.
More...

Top News from the European Union
European Commission - Statement Brussels, 5 February 2016 High Representative/Vice-President Federica Mogherini and Commissioners Vĕra Jourova and Neven Mimica call for zero tolerance against Female Genital Mutilation. Ahead of the International Day of Zero Tolerance against Female Genital Mutilation (6 February 2016) High Representative of the Union for Foreign Affairs...
All news