Europe Day 2012 - Speech by Ambassador Marchel Gerrmann - Head of Delegation of the European Union (09/05/2012)
Honourable Ministers, Distinguished Government officials, members of the Diplomatic Corps and International Organisations, esteemed guests, Ladies and Gentlemen,
It is a great pleasure to welcome you here in Albergo Italia tonight to celebrate together the Europe Day – a symbolic day marking the beginning of a great project. In particular I like to welcome my colleagues HoMs of the EU members states represented in Asmara and all European citizens present tonight.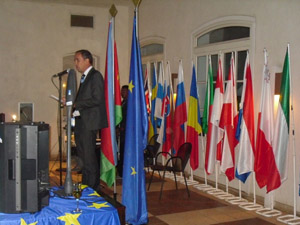 On this very day, sixty-two years ago, Robert Schuman gave his famous speech, marking the birth of the European Union. Schuman believed that Europe, which needed to emerge from war, chaos and economic hardships, would not be made at once, but "by concrete achievements, which create de facto dependence, mutual interests and the desire for common action".
This particular approach led to the emergence of a peaceful, united and more prosperous Europe, based on joint cultural, political and democratic values, including respect for human rights. This Europe is today made of 495 million people living in 27 Member States.
The European Union is currently going through a challenging period. Following the financial crisis at the end of the last decade, Europe and its MS are being faced with the dual challenge to get its public finances in order and revive its economic potential. This was particularly obvious during the final weeks of 2011, when investor confidence reached its lowest point. And as we speak, uncertainty is resurfacing.
But the last weeks of 2011 were also the crucial turning point, as the EU leaders chose to go for deeper integration instead of giving up to the threat of gradual disintegration. Notwithstanding a complicated governance structure, the history of the EU has shown that in times of crisis, the EU is able to find a way forward.
Finding a way forward not only matters to the EU. In an era of global interdependence, developments taking place in Europe have an effect anywhere else in the world, including Eritrea. Likewise, any developments happening in Eritrea, the Horn of Africa and Africa at large has its effects felt in Europe.
Learning from its own history, The European Union believes that regional integration both political and economic is a prerequisite for peace, stability and sustainable development in the Horn of Africa. This is reflected in the European Union's recently adopted "Strategy for the Horn of Africa". Now we all need to work together to make the Horn of Africa a more stable and more prosperous place.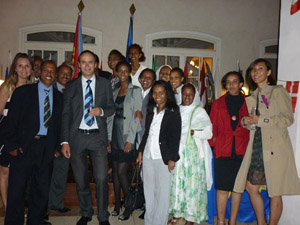 Dear friends and colleagues,
The EU believes in a partnership with Eritrea based on mutual interests and shared values. The EU has appreciated the open and frank dialogue we have had so far with Eritrea and we underline the importance of this dialogue for the future. From our side we believe that the coming months will be key for constructive engagement. We must be able to further build a productive and self-reinforcing partnership, where both partners will gain.
Dear friends and colleagues,
In 2011, in spite of the economic downturn at home, the EU and its 27 member states spent a total of EUR 62 billion on development partnerships, providing more than half of the global efforts. Most was spent in Africa, where ODA is becoming more and more scarce in view of rising demand for aid and aid budgets worldwide under pressure.
EU support to Eritrea has been in line with Eritrea's priorities in the areas of education, infrastructure and food security. During my first field visits as the new Head of the European Union Delegation to Eritrea, I have been able to witness that together we are making a difference in the lives of many Eritreans in a cost-effective and sustainable manner.
In 2011 a number of joint development cooperation projects was concluded. All of them improved the standards of living of the people of Eritrea. We are proud to be part of it. Let me mention a few of them: 55,000 people are benefitting from safe water supply in the town of Tesseney, more than 200,000 families improved their food production, and 50,000 children have now access to more than 675 new classrooms.
I would like to take this opportunity to acknowledge the strong commitment and hard work of all those in the Government, local authorities and Eritrean citizens who have worked with dedication to implement and deliver these projects. Looking to the future, the EU stands ready to continue the partnership in line with the National Development Strategy of Eritrea and in the framework of Cotonou.
Later this month, Eritrea will be celebrating its 21 years of independence. We acknowledge the long and eventful history of the country, and we commend Eritrea for its commitment to self-reliance. In this respect the EU can also respond positively to the government's wish to put more emphasis on trade and investment. This will require a strong commitment on both sides.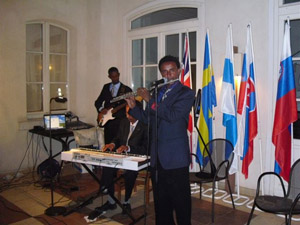 Dear colleagues and friends
On Europe Day, I would like to conclude with the words of the High Representative of the European Union for Foreign Affairs, Catherine Ashton:
"We will continue to do what the framers of the Lisbon Treaty – and long before them, Robert Schuman—intended; for Europe to play an active role in solving global problems. There is much we have achieved in the past year; but even more to be done"
In my capacity as ambassador for the EU, I am expressing our strong commitment to do exactly that in 2012.
Last but not least, I would like to say a few words of thanks for those who made this Europe day possible. I like to thank Alliance Française for their technical support and I would also like to thank the very young and talented members of HTN Vibe from the Lutheran Evangelical Church, who are and will be entertaining us this evening. And finally, I like to thank my staff for all their efforts.
Now, let us raise our glasses and toast to peace, prosperity and friendship for and between the people of Eritrea and the people of Europe.
Thank you,