Delegation to Eritrea

News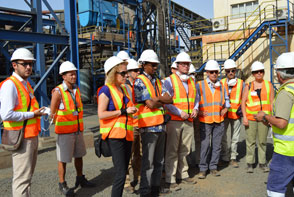 The Head of the Delegation of European Union to the State of Eritrea, Ambassador Christian R. Manahl, presented his credentials to President Isaias Afwerki on 9 October 2014 at Denden Hall, allowing him officially to assume his duty.
All news
Working together in the State of Eritrea
The project aims at strengthening food and livelihood security of drought and war affected agro-pastoralists by improving access to productive agricultural inputs and facilities, increasing access to water and improving conditions of livestock.
More...

Top News from the European Union
European Commission - Statement Brussels, 28 July 2015 The adoption of the Reform Agenda by Bosnia and Herzegovina authorities is a crucial step forward for the country's EU integration path. Bosnia and Herzegovina authorities, in consultation with the European Union and International Financial Institutions, agreed a concrete set of reforms, identified as an urgent priority for the country. These reforms aim at...
All news