2015 Research and Innovation Tour:Where Europe and China connect (30/03/2015)
What? The 2015 Research and Innovation Tour (Tour) is the 4th edition of an ambitious awareness raising campaign leading through 16 cities in 14 provinces across China. With an introduction of Europe's excellence in science and innovation, the Tour seeks to shape a vibrant EU-China research and innovation community through an array of European research and innovation opportunities. The 2015 Tour follows on from successful previous editions which attracted more than 2000 interested and experienced Chinese stakeholders all over the country.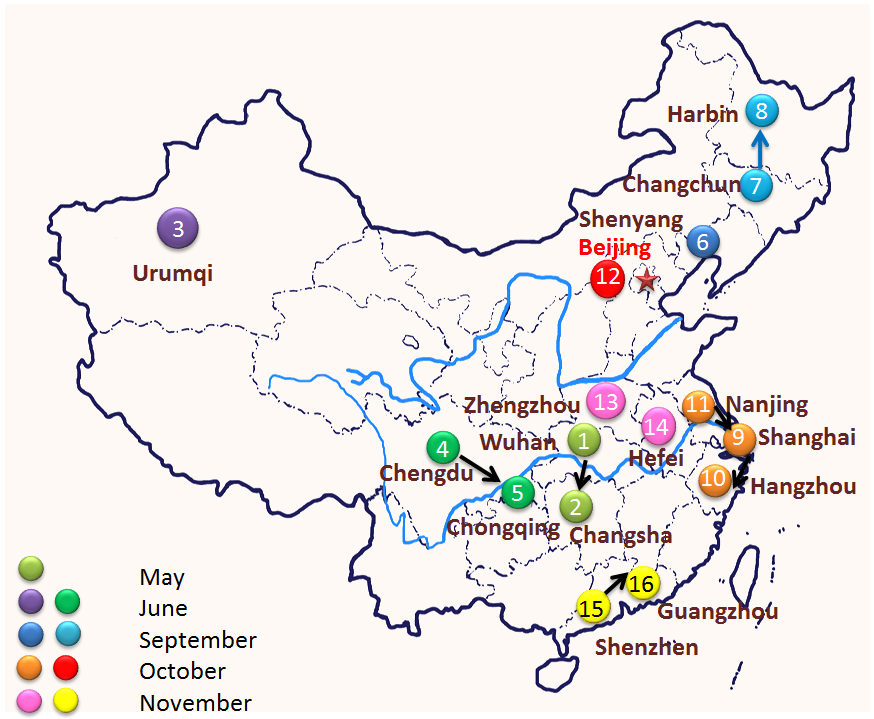 Why? Under the umbrella of the 40th anniversary of EU China relations the 2015 Tour pursues the objective to consolidate Europe's position as THE strong partner and destination for China with regards to science and innovation cooperation. The Tour will demonstrate opportunities for creating win-win solutions offered by national and EU-level funding programmes. It will foster better knowledge and understanding of European policies and instruments, such as Horizon 2020, which will greatly facilitate the success for joint research and innovation endeavours. It will also enhance Europe's understanding of the Chinese research and innovation landscape through close contact with leading researchers, S&T authorities and field visits to the country's first-class research infrastructures in first and second-tier cities.
Who? The Research and Innovation Tour is a symbolic visible sign of JOINT efforts between the Delegation of the European Union to China, the Embassies and Consulates of the EU Member Statesand Countries Associated to the Framework Programme based in China, the China Science and Technology Exchange Centre (CSTEC) under the Ministry of Science and Technology and Euraxess. The Tour aims to reach out to a targeted audience composed of key people, local authorities and disseminators in S&T, top scientists and decisions makers in research and innovation, professors, deans, doctoral and post-doctoral students as well as the private sector and business representatives, in particular SMEs, involved in R&D activities.
The European Union is China's partner of excellence in research and innovation
Map of EU Member States and Associated Countries to Horizon 2020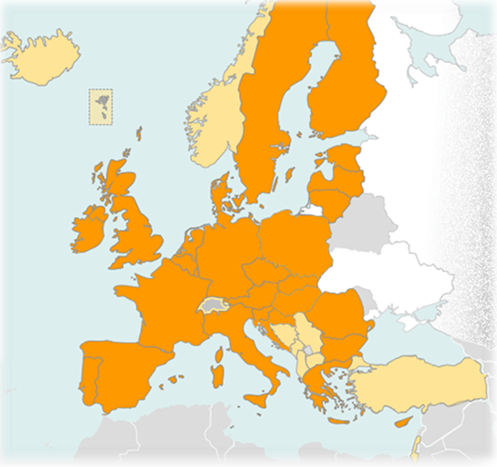 28 EU Member States 13 Associated Countries
Bulgaria Croatia Bosnia and Herzegovina
How? Each Tour event is tailored to provide a unique set of lectures and presentations promoting different research and innovation programmes. Moreover, attendees to the Tour events will be given opportunities to exchange views face-to-face with the European representatives. Highlights of each Tour seminar are inspiring testimonials from former or current participants engaged in EU-level or EU Member State/Associated Country national collaborative research programmes.
Where and when? The 2015 Tour will launch on May 18 in Wuhan under the high level auspices of the EU Ambassador to China and a number of Consul Generals of EU Member States. From May to November the Tour leads through a total of 16 Chinese cities. The grand closure of the Tour will take place in Shenzhen and Guangzhou in November.
Cluster

Dates

Cities

Host Institution

Participating Countries

1

May 18-19

Wuhan University of Technology

Finland, France, Italy, UK

May 20

Hunan University of Chinese Medicine

France, Italy, UK, Norway

2

June 9

Xinjiang Institute for Ecology and Geography, CAS

Germany, Norway

3

July 6

Sichuan Provincial Science and Technology Department

Finland, Hungary, Italy, UK

July 7

Chongqing University of Posts and Telecommunications

Finland, Hungary, Italy, UK

4

September 9

Northeastern University

France, Netherlands, Austria

5

September 22

CIOMP Academic Hall

France, Malta, Slovakia

September 23

Harbin Institute of Technology

France, Malta, Slovakia, Switzerland

6

October 13-14

Sino-French Institute of Engineering and Management, Tongji University

ShanghaiTech University

Austria, Denmark, France, Italy, Netherlands Spain UK, Norway, Switzerland

October 15

Zhejiang University of Technology

France, Germany, Norway

October 16

Southeast University

France, Germany

7

October 30

Italian Embassy

Austria, Belgium, Czech, Denmark, Finland, France, Greece, Hungary, Italy, Lithuania, Malta, Portugal, Spain, UK, Norway, Switzerland

8

November 03

Meishan Hotel

Italy, Netherlands

November 25

Zhengfangyuan Jinjiang International Hotel

9

Closing events

November 16-17

November 18

China Hi-Tech Fair

Austria, France, Hungary, Spain, Norway

Sun Yat Sen University

Austria France, Germany, Netherlands, UK,
Media? Media should help us to boost visibility of the Tour at central and local level. We offer the opportunities for interviews, press articles, documentaries and short films of participants and presentations.
Please click Here to read the BEST news reports
Please click Here to watch the BEST video clips
More information needed?Please contact EU Delegation to China, Science, Technology and Environment Section: Delegation-China-Scitech@eeas.europa.eu