Delegation to Canada

News

Highlights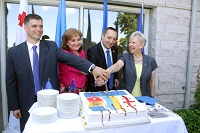 Marie-Anne Coninsx, Ambassador of the European Union, Alexander Latsabidze, Ambassador of Georgia, Ala Beleavschi, Ambassador of the Republic of Moldova, and Vadym Prystaiko, Ambassador of Ukraine, co-hosted a reception at the EU Official Residence today to mark the signing of the EU Association Agreements with Georgia, the Republic of Moldova and Ukraine.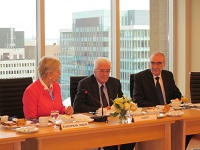 On 26 June, the EU Heads of Missions welcomed Mr. Raymond Benjamin, Secretary-General of the International Civil Aviation Organization (ICAO), during a meeting at the European Union Delegation in Ottawa. They exchanged views on the work of the ICAO in general and the negotiations regarding aviation emissions in particular.
More...

Top News from the European Union
We strongly condemn the outrageous murder of the US journalist James Foley by the Islamic State in Iraq and the Levant. We express our sincere condolences to the family of this distinguished journalist, to his friends and colleagues.This brutal act, like the many other human rights violations which are perpetrated by the Islamic State, denies universally recognized values and rights, including the freedom of press for which Mr Foley had risked his life on several occasions. The EU will continue to promote the safety of journalists in the Middle-East and worldwide.
All news