Delegation to Canada

News

Highlights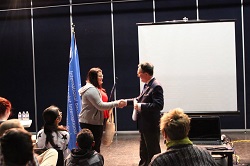 Belgian Ambassador Raoul Delcorde was the special guest speaker at Gisèle-Lalonde Secondary School on 24 February, an opportunity for dozens of international baccalaureate students to learn more about the European Union and the role Belgium plays as an EU Member State.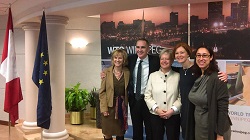 European Union Ambassador Marie-Anne Coninsx was the guest speaker at a breakfast seminar hosted by the World Trade Centre Winnipeg on 17 February, as part of their Speakers' Series. During her keynote address, Ambassador Coninsx addressed recent economic and political developments in Europe and discussed the benefits of CETA and of doing business with the EU.
More...

Top News from the European Union
After two decades of committed joint efforts from the Ghanaian government and international partners, the European Union (EU) and the United Nations Children Fund (UNICEF) are delighted that the World Health Organisation has certified Ghana as free of the Guinea-Worm disease.
All news