Delegation to Canada

Highlights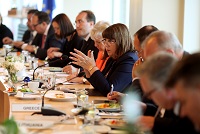 Marie-Anne Coninsx, Ambassador of the European Union to Canada, welcomed Máire Geoghegan-Quinn, European Commissioner for Research, Innovation and Science, to a working lunch with the Heads of Mission of EU Member States in Ottawa on September 10. The meeting was part of the Commissioner's official visit to Canada from 7 to 13 September with stops in Montreal, Ottawa and St. John's, Newfoundland.
Catherine Ashton, High Representative of the European Union for Foreign Affairs and Security Policy/Vice-President of the European Commission, met with the Honourable John Baird, Minister of Foreign Affairs, during her official visit to Canada on 8 September.
More...

Top News from the European Union
European Commission Belgrade, 28 September 2014 Statement The EU condemns extremist threats against Belgrade Parade and welcomes the decision by the Government of Serbia to allow organisation of the Pride Parade, and the consequent preparatory work done.
All news