Delegation to Canada

News

Highlights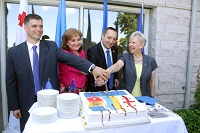 Marie-Anne Coninsx, Ambassador of the European Union, Alexander Latsabidze, Ambassador of Georgia, Ala Beleavschi, Ambassador of the Republic of Moldova, and Vadym Prystaiko, Ambassador of Ukraine, co-hosted a reception at the EU Official Residence today to mark the signing of the EU Association Agreements with Georgia, the Republic of Moldova and Ukraine.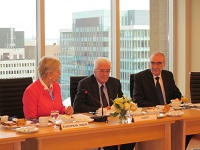 On 26 June, the EU Heads of Missions welcomed Mr. Raymond Benjamin, Secretary-General of the International Civil Aviation Organization (ICAO), during a meeting at the European Union Delegation in Ottawa. They exchanged views on the work of the ICAO in general and the negotiations regarding aviation emissions in particular.
More...

Top News from the European Union
European Commission Press release Brussels, 28 July 2014 The EU-Central Africa Economic Partnership Agreement (EPA) for trade and development between the EU and Cameroon will enter into force in the coming days following the recent ratification of the agreement by Cameroon.
All news