Delegation to Azerbaijan

News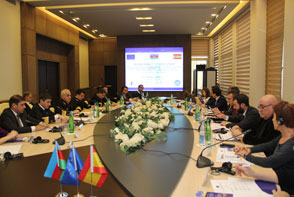 The implementation of the Twinning Project "Support to the State Maritime Administration to Improve Liability in Maritime Transport in the Republic of Azerbaijan" was officially launched on 15 January. The main purpose of this project is to increase the capacity of the State Maritime Administration in the implementation and application of liability procedures foreseen in the International Conventions concerning maritime safety and prevention of sea pollution in Azerbaijan in conjunction with the legislation of European Union.
The European Union has played a key role in brokering today's historic agreement in Paris, where 195 countries adopted the first-ever universal, legally binding global climate deal. The ambitious and balanced agreement, the first major multilateral deal of the 21st century, sets out a global action plan to put the world on track to avoid dangerous climate change by limiting global warming to well below 2°C.
All news
Working together in Azerbaijan
Support State Veterinary service to prepare a national system for identification of animals and registration of holdings.
More...

Top News from the European Union
European Commission - Statement Brussels, 5 February 2016 High Representative/Vice-President Federica Mogherini and Commissioners Vĕra Jourova and Neven Mimica call for zero tolerance against Female Genital Mutilation. Ahead of the International Day of Zero Tolerance against Female Genital Mutilation (6 February 2016) High Representative of the Union for Foreign Affairs...
All news