Delegation to Australia

News
Migration data published by the Australian Bureau of Statistics reveals that of Australia's estimated resident population born overseas of 6.7 million at 30 June 2015, 33 per cent, or 2.2 million people, were born in the EU.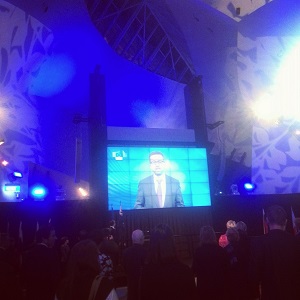 Innovation was the prized guest at a Europe Day event in Canberra on 9 May, with the spotlight on EU-Australian Partnerships in innovation. These included space, research and science among the many others that Australia and the EU collaborate on.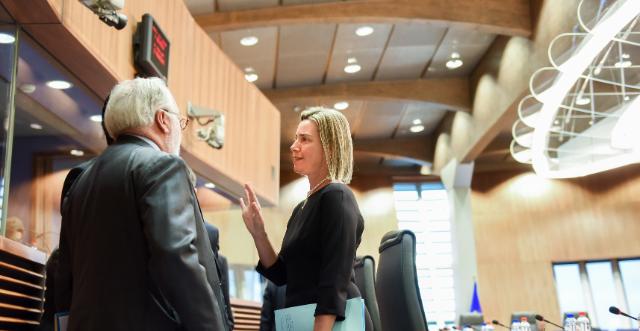 On the occassion of the singing of the Paris Climate Agreement in New York on 22 April, EU Commissioner for Climate Action and Energy Miguel Arias Canete together with the HR/VP Federica Mogherini have penned an opinion piece on what is needed to continue to build a safer, greener and globally active world. Highlighting the climate diplomacy work accomplished in the last year with the EU mobilising its network of 3,000 EU delegations and member state embassies across the globe, in the lead up to the Paris Climate conference. Full op-ed below.
All news
In Focus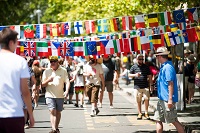 The European Union Delegation to Australia teamed up with the National Multicultural Festival to create a pop-up EU Village on 13 February in the heart of Canberra. The EU Ambassador to Australia, H.E. Sem Fabrizi and the ACT Minister responsible for Multicultural Affairs Yvette Berry MLA officially openned the EU village. Ambassador Fabrizi invited everyone,"to come and visit the EU Village – where else will you experience the diversity of a whole continent without having to travel thousands of miles to do so?" The thousands of participants on the day collected their EU Passport from the EU Delegation marquee and 'stamped' their way around Europe by visiting each of the stalls represented in the EU Village (see below for a full list of participating countries). Those stamped by all countries received an EU prize.

The Human Rights Awards held in Sydney on 11 December, 2015 included two firsts, the "Racism It Stops With Me" Award and the participation of the European Union Delegation to Australia. The EU Ambassador to Australia H.E. Sem Fabrizi said, "The Human Rights we celebrate today - dignity, freedom, democracy, equality, the rule of law - are the principles on which the EU is founded," he said. "We are delighted to sponsor the Racism It Stops With Me Award," Ambassador Fabrizi said.
More...

Top News from the European Union