Delegation to Australia

News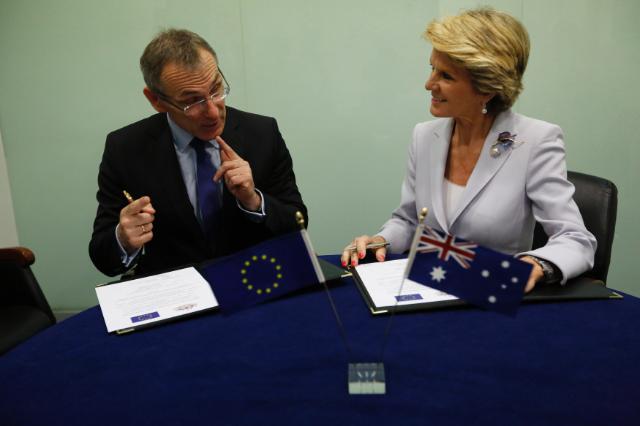 On 15 April the EU's Commissioner for Development, Andris Piebalgs and Australia's Foreign Minister Julie Bishop signed a Ministerial Declaration stressing the importance of joined up approaches to development policy. The declaration marked the commencement of 'Delegated Cooperation' which means that Australia and the EU can implement each other's development funds on a case by case basis which will enhance cooperation and aid effectiveness. For the European Union this is the first time that such an arrangement has been completed with a third country. At this stage the EU will implement Australian funds in South Sudan in a project to support the Government of South Sudan's Ministry of Animal Resources and Fisheries. In the Pacific Australia will implement EU Funds in Fiji to improve the livelihood of the sugar cane dependent populations by promoting income generation through sugar cane farming or alternative livelihoods.
Ambassador Sem Fabrizi's first public lecture in Adelaide on 9 April emphasised the depth and breadth of the EU-Australia relationship as well as outlining the global nature of the EU economic, foreign and security policies. He also stressed that the re-emergence of Asia is one of the mega trends shaping our world and that the EU-Australia relationship is evolving to adapt to the changing geopolitics of the region.
date of issue: 11 April 2014
All news
In Focus
An opportunity is available for a Policy Officer, Media, Public Affairs and Culture at the European Union Delegation in Canberra. This is a permanent position with a competitive salary package. Applications close 17 April 2014.
Albert Hall, Commonwealth Avenue, Yarralumla, 9 May 7.00pm. Canberra International Music Festival celebrates its 20th year in 2014. This year's theme, The Fire and the Rose, will explore the centenary of the commencement of World War 1 and the 75th anniversary of the outbreak of World War II through the works of composers who wrote while serving as soldiers on all sides. The Delegation of the European Union presents the opening concert on Europe Day, 9 May.
More...

Top News from the European Union