Delegation to Australia

News
Australia and the European Union (EU) share a common approach to investing and prioritising research infrastructure. This year, following a successful Department of Education hosted delegation visit of 17 members from the EU in 2013, an International Conference for Research Infrastructure 2014 will be held in Athens on 2–4 April. The Conference — co-organised by the European Commission and Greece under the Presidency of the EU — will be another opportunity to broaden international discussion of important issues in research infrastructure.
Tuesday 11 March 2014 5:30pm, repeated: Wednesday 12 March 5:30am. While all eyes are glued to the cascading events in Ukraine and Russia, within the boundaries of the European Union, there's another insidious dilemma: a number of member states are tampering with the basic EU wide laws which protect their citizens. Presented by Damien Carrick
Originally called International Working Women's Day, 8 March started as a Socialist political event. International Women's Day was first observed as a popular event after 1977 when the United Nations General Assembly invited member states to proclaim March 8 as the UN Day for women's rights and world peace.
All news
In Focus
European Union Commissioner for Economic and Monetary Affairs, Olli Rehn, and European Central Bank President, Mario Draghi, attended the G20 Finance Ministers' and Central Bank Governors' meeting in Sydney on 22-23 February 2014.
At Europe Street at the National Multicultural Festival, the public was given the opportunity to participate in a competition to win a hamper comprising gifts from each of the 24 EU Member States represented in Canberra. Today Ambassador Sem Fabrizi presented the winner of the EU hamper, Sarah Poon, with her prize.
More...

Top News from the European Union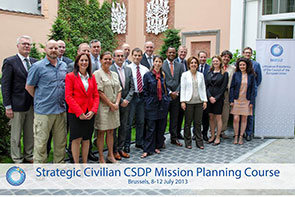 01/07/14 -
ESDC - Strategic civilian CSDP Mission Planning Course
From 8 to 12 July 2013, Austria and Lithuania organised a Strategic Civilian CSDP Mission Planning Course at the Permanent Representation of Lithuania in Brussels
All news