Delegation to Armenia

News
The Social Leader Forum of Joint Civic Education invites all who are interested in Social Innovations through Cross-Sector Cooperation and live in Armenia, Azerbaijan, Georgia, Russia (North Caucasus) or Turkey, to take part in series of events on professional exchange of expertise and innovative concepts.
All news
Working together in Armenia
ECEILAW - Establishment of a Chair for European and International Law and Centre of European Law and Integration at Yerevan State University

In the future Armenia wishes to implement democratic reforms and integrate into Europe, but its higher education system lacks the basis or appropriate infrastructure for such reforms to take place. Providing such a basis is the aim of this project.
More...

Top News from the European Union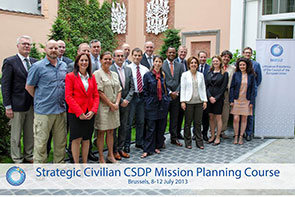 01/07/14 -
ESDC - Strategic civilian CSDP Mission Planning Course
From 8 to 12 July 2013, Austria and Lithuania organised a Strategic Civilian CSDP Mission Planning Course at the Permanent Representation of Lithuania in Brussels
07/03/14 - EU High Representative/Vice-President Catherine Ashton on the occasion of International Women's Day 2014
07/03/14 -

Déclaration du porte-parole de la Haute Représentante sur le jugement rendu à l'encontre de M. Germain Katanga

[476 KB]
07/03/14 - Catherine Ashton on the occasion of International Women's Day 2014 [470 KB]
07/03/14 - EU to observe upcoming elections in Afghanistan [429 KB]
All news