Welcome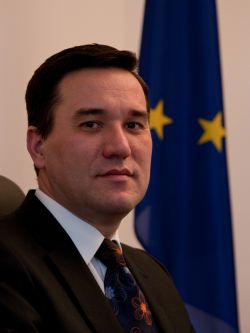 Traian Hristea
Dear visitor,
It's with great pleasure that I welcome you to the website of the European Union Delegation to Armenia. I hope that our website will be of help for you to better understand EU-Armenia relations and EU institutions in general.
I have started my mission in Armenia in December 2011. I am committed to facilitate the deepening and strengthening of EU-Armenia relations.
With the entry into force of the Lisbon Treaty in December 2009, the EU institutions are undergoing great changes, one of the significant developments being the establishment of the European External Action Service since January 2011. Now, the Delegations represent the European Union as a whole. Currently our Delegation to Armenia cooperates and negotiates with the Armenian authorities with a cohesive EU voice and mandate.
The bilateral relations with Armenia are making good progress. We are more than halfway through negotiations on an Association Agreement, while negotiations on a Deep and Comprehensive Free Trade Agreement, on visa facilitation and on re-admission agreements will start soon. The Delegation's main role and objective is to enhance the bilateral relations in all the fields – political, economic, people-to-people, and to assist the Armenian Government to implement its reforms. Hence, we intend to continue working closely with all counterparts: authorities, political parties, civil society, media, education institutions, and international organizations. We are striving to reach these objectives in our daily work in cooperation and partnership with all our contacts.
One of the tools to reach everyone interested in EU-Armenia relations, our website is aimed to give you comprehensive information. We hope that you will enjoy surfing our website and will find its information useful, as well as user friendly.
Please don't hesitate to address the Delegation for information and consultation on questions you may have. Our staff is ready to assist you and will highly appreciate any feedback. We'll be happy to receive your suggestions, comments, ideas to improve our services and meet your demands as much as possible.
I would like to thank you for your interest and visiting our website!
Traian Hristea
Head of Delegation