Welcome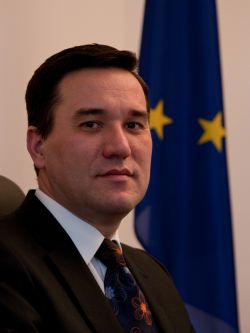 Traian Hristea
Dear visitor,
It's with great pleasure that I welcome you to the website of the European Union Delegation to Armenia. I hope that our website will help you better understand EU-Armenia relations and EU institutions in general.
I started my mission in Armenia in December 2011. I am committed to facilitating the deepening and strengthening of EU-Armenia relations.
When the Lisbon Treaty entered into force in December 2009, the EU institutions underwent great changes, one of the significant developments being the establishment of the European External Action Service in January 2011. Now, the Delegations represent the European Union as a whole. Accordingly our Delegation to Armenia cooperates and negotiates with the Armenian authorities with a cohesive EU voice and mandate.
In July 2013 the EU and Armenia concluded negotiations on a new Association Agreement and a Deep and Comprehensive Free Trade Area (DCFTA), which is an integral part of the Association Agreement. The Association Agreement and the DCFTA aimed at allowing Armenia, with the EU´s support, to drive forward a programme of comprehensive modernisation and reform based upon shared values, political association and economic integration. The process of implementation of the Association Agreement and the DCFTA has been withheld in September 2013 following Armenia's decision to join the Customs Union. We respect the sovereign right of all our partners to choose freely what integration framework or cooperation frameworks they would like to pursue. At the same time we have declared our interest to develop our relations with Armenia in these circumstances, building on what we have jointly achieved in our cooperation so far. The EU is committed to continue working closely with Armenia and we are in close contact to define the best way to move our relationship and cooperation forward.
At the Eastern Partnership Summit in Vilnius in 2013, the EU and Armenia agreed on the need to update the EU-Armenia Action Plan. An agreement was reached to revise the basis for our relations, building upon the existing framework for cooperation. The next step is to reflect on how to take this process forward.
One of the tools for reaching everyone interested in EU-Armenia relations is our website, which is aimed at giving you comprehensive information. We hope that you will enjoy browsing our website and will find the information useful, as well as easy to use.
Please don't hesitate to address the Delegation for further information and consultations on questions you may have. Our staff is ready to assist you and will highly appreciate any feedback. We'll be happy to receive your suggestions, comments, ideas to improve our services and meet your requests as much as possible.
I would like to thank you for your interest and for visiting our website!
Traian Hristea
Head of Delegation