All news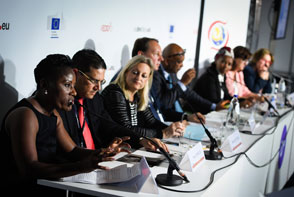 A follow-up workshop of the EU-Africa Business Forum took place in Brussels on June 15 2016 as a side event to the European Development Days. Building on the success and momentum of the 5th EU-Africa Business Forum, held in 2014, this is the fourth in a series of EABF follow-up workshops organised in Africa and Europe by the European Commission and the African Union Commission.
The European Commission has set out plans for a new results-oriented Partnership Framework to mobilise and focus EU action and resources in our external work on managing migration.
This development-oriented agreement is the first of its kind with an African region pursuing regional economic integration.