All news
Today, as we celebrate the International Day in Support of Victims of Torture, our thoughts go to all those around the world who have been and continue to be exposed to this horrible practice. The EU will never give up its staunch commitment to the prevention and eradication of torture and other cruel, inhuman or degrading treatment or punishment, which are unequivocally prohibited under international law.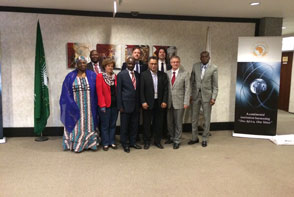 The European Parliament and the Pan-African Parliament Inter-Parliamentary meeting was held on May 29 in Midrand, South Africa. The meeting was held in the margins of the Sixth Ordinary Session of the Pan –African Parliament.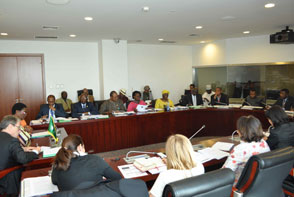 The Steering Committee of the African Union Support Programme II held its first meeting on 22 May 2015. EU is contributing €28.8 Million to the Programme launched in 2014.
20/05/15 - 4th MESA Programme Steering Committee meeting held

The 4th MESA Programme Steering Committee (PSC) meeting took place from 27 to 29 April 2015 in Port Louis, Mauritius, hosted by the Indian Ocean Commission, with high level participation from the state of Mauritius , European and African stakeholder organisations. The participants took stock of the progress made two years after the start of the programme and discussed key activities to be carried out.

15/05/15 - Europe-Africa Research & Innovation News n°15 – March-April 2015 [172 KB]
04/05/15 - EU - AU Joint Statement on the Freedom of the Press Day [439 KB]
27/04/15 - The European Union and the African Union join forces to build disaster resilience in Sub-Saharan Africa [64 KB]

Brussels, 24 April 2015 - The African Union and the European Union announced a new EUR 80 million initiative with the AU Commission in the lead to drive the implementation of the African Disaster Risk Reduction Strategy with a view to help protect Africans from the threat of natural hazards and climate change.

23/04/15 - Latest facts about the EU-Africa Partnership
23/04/15 - The seventh College-to-College meeting between the European Commission and the African Union Commission took place in Brussels

On 22 April 2015, the College of the European Commission welcomes to Brussels the College of the African Union Commission for their 7th annual meeting. The meeting is a key event in the partnership between the European Union and Africa and the first College-to-College meeting of the new European Commission. It gave a fresh impetus in the already vigorous relationship between the two strategic partners who share common values, priorities and challenges – not only bilaterally, but also on the global level.

21/04/15 - African Union Commission and European Commission meet to bring new impetus to the EU-Africa partnership
15/04/15 - Declaration by the High Representative on behalf of the European Union on the lack of a conducive environment for the upcoming elections in Sudan
07/04/15 - "No women, no development, no dignity!" EU Commissioner Neven Mimica

The Women in Parliaments Summit which takes place in Addis Ababa in Ethiopia from 23 to 25 March, is the largest ever. It has brought together over 400 Parliamentarians from around the world to discuss how leaders, both female and male, can work together to address the issue of women's empowerment in politics, gender equality and other global challenges.

11/03/15 - EU hosts meeting of Libyan businessmen from all across the country [39 KB]
11/03/15 - Statement of the Spokesperson on the failure of the parties of South Sudan conflict to reach a peace agreement
06/03/15 - Europe-Africa Research & Innovation News [267 KB]
15/02/15 - Joint co-chair statement by the AU PSC and EU PSC on their joint field mission to Mali
10/02/15 - Eminent African Scientists receive the 2014 Kwame Nkrumah Scientific Awards supported by EU
International Women's Day [55 KB]