Delegation to the African Union

News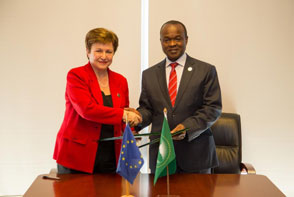 The European Commission and the African Union Commission on Sunday signed an agreement that will renew cooperation between the two bodies, intensifying staff exchanges and cooperation in a number of priority areas. Under the arrangement, the European Commission staff will be able to work, for a limited period of time, in the administration of the African Union Commission and vice-versa.
All news
Working together with African Union
In this edition:
EC research Commissioner presents priorities: the 3 Os
UN Financing for Development conference: vital role for science & technology
EDCTP appoints new Executive Director and seeks High-Level Representatives
Tunisia revamps research and innovation set-up
New study on Research and Innovation capacities for Renewable Energy in SSA
Horizon 2020 – first results: 3200 new projects receive €.5 billion
Horizon 2020 – next calls coming soon
Showcasing EU-Africa cooperation in Horizon 2020
Upcoming event
More...

Top News from the European Union