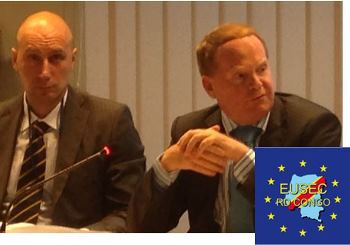 Mr. Kurt Cornelis (DEVCO) and Mr. Mario Marmo (SSR expert in the ESDC Secretariat)
12/06/2014
In combination with the regular SSR Board meeting on 11 June, ESDC arranged a special event on SSR with the Head of Mission for EUSEC RD Congo, Colonel Jean-Louis Nurenberg and Kurt Cornelis, Deputy Head of the Central Africa Geographical Coordination Unit in DEVCO.
The presentation was focused in particular on the results of the mission in Congo, possible follow-up and how the results of the EU's efforts can be sustained with a view to the long- term perspective.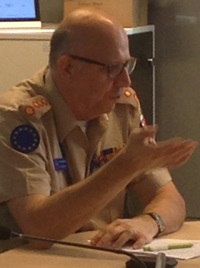 Around 40 people from the EU Member States and the European External Action Service attended the event. In particular, the Q&A period was widely used to learn more about the implementation of the comprehensive approach in theatre. To date, the Democratic Republic of Congo has been hosting five (three civilian/two military) of the 30 CSDP missions and operations.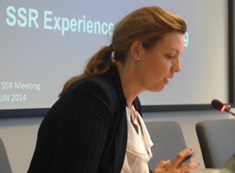 Due to the high level of interest, another event is envisaged for 13 November 2014, again in combination with the upcoming SSR Board meeting (in the picture: Michaela Friberg-Storey, Chair of the ESDC.SSR-Board).