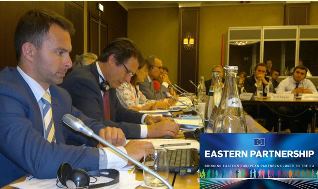 Mr. Gunnar Wiegand (centre) and Mr. Marek Janovsky (left) during the opening of the platform meeting in Brussels
11/06/2014
Launched in 2009, the Eastern Partnership is a joint initiative between the EU, Member States and the eastern European partner countries. It enables the EU's Eastern partners interested in moving towards the EU and increasing political, economic and cultural links to do so. Four thematic platforms will allow for targeted sessions and open and free discussions based on the main areas of cooperation:
- Democracy, good governance and stability (platform 1)
- Economic integration and convergence with EU sector-specific policies (platform 2)
- Energy security (platform 3)
- Contact between people (platform 4)
On 11 June 2014, the "democracy, good governance and stability" platform convened a meeting in Brussels. Under activity 11, this platform deals with "CFSP and CSDP cooperation". In this context, Dr Jochen REHRL from the ESDC Secretariat gave an overview of the training activities available to Eastern partnership countries. The main interest was in the newly established "CSDP Training Programme for Eastern Partnership countries" (CSDP TP EaP). Austria and Lithuania hosted this event under the umbrella of the European Security and Defence College, thereby ensuring first-class training taking into account the current training needs of the target audience.
During the Q&A session, the Eastern partnership countries expressed their appreciation of the training provided. "The programme facilitates the capacity building process in our countries and creates knowledgeable personnel in the CSDP area", said a diplomat from the region. Austria announced its readiness to continue specific education and training activities under the aegis of the ESDC.