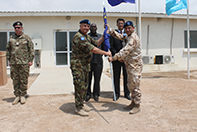 Gen. AHERNE passing the EU flag to Gen. MINGIARDI
14/02/2014
On 14 February, the official ceremony for the transfer of authority between EUTM SOMALIA Mission Commander Brigadier General Gerald AHERNE (IRL) and Brigadier General Massimo MINGIARDI (ITA), took place at EUTM Headquarters, International Campus, MOGADISHU.
High level representatives who attended the ceremony were Rear Admiral Bruce WILLIAMS, Deputy Director General, EU military Staff; Ambassador Michele CERVONE D'URSO, Special Envoy of the EU for SOMALIA; Brigadier General Philippe BOUTINAUD, Office of the Chairman, EU Military Committee; the Minister for Defence of SOMALIA, MOHAMED SHEIKH HASSAN HAMUD; and the Chief of Defence Forces of SOMALIA General DAHIR ADAN ELMI. Since the launch of the Mission in April 2010, EUTM SOMALIA has trained 3,600 members of the Somali army.
The training has, until now, been carried out in Uganda where the Headquarters of EUTM SOMALIA was based until its relocation in December 2013 to MOGADISHU. In addition to the training of the Somali National Armed Forces (SNAF), the Mission also provides strategic advice to the Somali Federal Government through the Mission's advisors who have been engaged with their partners in the Ministry of Defence and General Staff. In the coming weeks ,EUTM training in partnership with the SNAF will commence for the first time on Somali soil, and will take place at Jazeera Training Camp.
A training plan is in place for 2014 will see an additional 1850 SNAF personnel trained by EUTM in Mogadishu. The new Commander of EUTM SOMALIA, Gen. MINGIARDI will spend one year commanding the Mission in MOGADISHU.