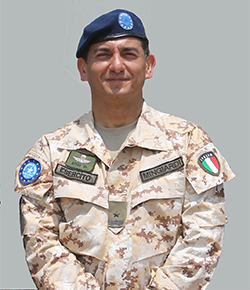 Brigadier General Massimo Mingiardi
On 10 April 2010, the European Union launched a military training mission in Somalia (EUTM Somalia) in order to contribute to strengthening the Transitional Federal Government (TFG) and the institutions of Somalia.
This support is part of the EU's comprehensive engagement in Somalia, which aims to support stabilising the country and to respond to the needs of the Somali people.
Since 2010, EUTM Somalia has contributed to the training of approximately 3,600 Somali soldiers with a focus on the training of Non-Commissioned Officers (NCOs), Junior Officers, specialists and trainers. Training was provided in Uganda due to the political and security situation in Somalia, in close collaboration with the Uganda People's Defence Forces (UPDF). The training of the Somali National Armed Forces is focused on commander up to battalion and company level, in addition to specialist training in the areas of military police, civilian-military cooperation, intelligence, company commander and combat engineering. Modules on international humanitarian law and human rights, and the protection of civilians are also delivered.