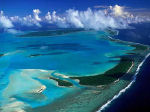 Cook Islands
The Cook Islands joined the African Caribbean Pacific (ACP) grouping in 2000, since when it has received some €7.4m in financial assistance from the European Development Fund (EDF).
Political dialogue
The EU's political dialogue with the Cook Islands focuses on:
protecting its vulnerable environment, especially in relation to climate change
defending human rights and gender issues.
The EU and the Cook Islands are discussing how to collaborate more closely in multilateral fora on these and other issues.
Aid and cooperation
The Country Strategy Paper

for 2008-13 provides for a total budget of €3.3m.
The main focus areas for EU assistance and cooperation are:
the environment – supporting the government's environmental protection policy
water and energy – improving wastewater treatment and sewer collection capacity
climate change assistance – financed through the Global Climate Change Alliance (GCCA) including:
• building resilience to climate change (with the University of South Pacific)
• promoting sustainable long-term adaptation strategies (with the Secretariat of the Pacific Community).
The EU is currently assessing the eligibility of CI for budget support financing.